Washington State Leads U.S. in Corporate Transparency; Texas Tied with Afghanistan
Thursday, August 21, 2014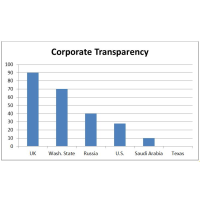 (graphic: Steve Straehley, AllGov)
The average American seeking information about corporations is going to have a much easier time if they're looking in the state of Washington, which according to one assessment is doing the best job in the United States when it comes to corporate transparency.
Those looking for information in Texas, however, might as well be in Afghanistan, due to that state's poor efforts to reveal important facts about corporations.
The Open Company Data Index developed by OpenCorporates.com shows Washington has the best score in the U.S. among all 50 states for corporate transparency: 70 out of 100. The index is based on criteria such as being able to find who's running a company, who's invested in it, licensing details and other information. The United States as a whole has a score of 28.
Washington's disclosure requirements also help "shed light on anonymous political donations, including requiring disclosure of all LLC [limited liability corporations] managers and members as well as an up-to-date corporate registry," the Sunlight Foundation's Gabbi Fisher wrote.
But as its score indicates, a 70 is far from perfect. That's why even Washington is considered only a "better practices" state, as opposed to a "best practices" state. "Holding back Washington from being a 'best practices' state are possible loopholes in its LLC registration laws, in addition to the specter of undisclosed donations from outside corporate entities," Fisher reported.
But, hey, at least it's not Texas with its "impressively bad score" of zero out of 100 possible points.
One big problem with the Lone Star State is its requirement of those seeking information to reveal who they are and to provide credit card information in order to access Texas's corporate registry. In other words, Texas puts more emphasis on personal disclosure in the course of supposedly facilitating corporate disclosure.
This rule, as well as other shortcomings, led OpenCorporates to give Texas the same score that was awarded to undemocratic nations like Afghanistan, Zimbabwe, Myanmar (Burma) and Egypt, where corporate transparency is considered as unnecessary as free and open elections.
-Noel Brinkerhoff
To Learn More:
Washington: A "Better Practices" State for LLC Transparency (by Gabbi Fisher, Sunlight Foundation)
The Lone Star State, a Loner in Corporate Registry Access (by Gabbi Fisher, Sunlight Foundation)
Open Company Data Index (Open Corporates)
China and Russia Said to Have Greater Corporate Transparency than the U.S. (by Noel Brinkerhoff, AllGov)