Walmart Recruited FBI and Lockheed Intelligence Unit for Surveillance of Employee Union Activity
Friday, November 27, 2015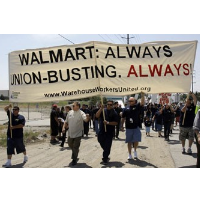 (photo: Reed Saxon, AP)
When workers at Walmart tried to unionize two years ago, company executives turned to a defense contractor and the FBI to keep track of labor organizers and supporters.
Using documents obtained from the National Labor Relations Board (NLRB), Bloomberg Businessweek reported the retail giant launched a surveillance campaign targeting OUR Walmart, which organized protests in 2013 against the company.
Walmart leadership was so concerned about the union activity that "it hired an intelligence-gathering service from Lockheed Martin, contacted the FBI, staffed up its labor hotline, ranked stores by labor activity, and kept eyes on employees (and activists) prominent in the group" Susan Berfield reported for Bloomberg Businessweek.
"We are fighting for all workers to be paid a fair wage and enough hours to put food on the table and provide for our families," Mary Pat Tifft, a Wisconsin Walmart employee of 27 years, said, according to Common Dreams. "To think that Walmart found us such a threat that they would hire a defense contractor and engage the FBI is a mind-blowing abuse of power."
The media investigation into Walmart revealed that inside its global security operation is an Analytical Research Center (ARC), led by a former FBI officer, Ken Senser. And overseeing ARC is an executive, Steve Dozier, who used to run the Arkansas State Police. Walmart is headquartered in Bentonville, Arkansas.
ARC also took action the year before in 2012 when labor activists talked about organizing strikes on Black Friday that year, which could have hurt sales on one of the biggest shopping days of the year. "When we received word of potential strikes and disruptive activity on Black Friday 2012, that's when we started to ask the ARC to work with us," Karen Casey, who was in charge of Walmart's U.S. labor relations, told the NLRB. "ARC had contracted with Lockheed leading up to Black Friday to help source open social media sites."
Additionally, a Lockheed analyst, Christian Blandford, monitored the social media of activists in Bentonville before Walmart's shareholder meeting two years ago.
-Noel Brinkerhoff
To Learn More:
How Walmart Keeps an Eye on Its Massive Workforce (by Susan Berfield, Bloomberg)
'Mind-Blowing Abuse of Power': Walmart Spied on Workers with FBI, Lockheed Martin's Help (by Nadia Prupis, Common Dreams)
Labor Board Charges Wal-Mart with Illegally Firing and Punishing Employees (by Noel Brinkerhoff, AllGov)
Largest Dutch Pension Fund Pulls Investments in Walmart over Poor Labor Practices (by Noel Brinkerhoff and David Wallechinsky, AllGov)