Vets Sue Defense Dept. for Refusing to Pay Reenlistment Bonuses
Tuesday, February 16, 2016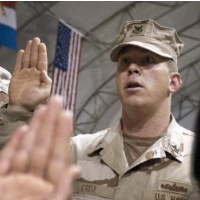 National Guard soldier takes oath of enlistment (photo: U.S. Navy/Getty Images)
By Nick Cahill, Courthouse News Service
SACRAMENTO, Calif. (CN) - The California Army National Guard "conned" thousands of soldiers into reenlisting and is trying to recover signing bonuses a decade later, an Iraq war veteran claims in court.
In a class action filed Wednesday in Federal Court, plaintiff Bryan Strother says the National Guard offered soldiers bonuses in order to inflate its reserves and that the plaintiff class is "victims of one of the most egregious mass frauds in U.S. Military history."
Shortly after signing his reenlistment contract in 2006, Strother says he was sent to Iraq and finished out the terms of his deal with honor and even appeared on a National Guard magazine. Three years later the government sent him a letter saying he shouldn't have received an enlistment bonus because he changed his military occupational specialty while serving in Iraq.
Strother says his military record shows he didn't change his classification and regardless, the statute of limitations on his bonus expired years ago. He says defendants are attempting to recoup bonuses from more than 16,000 soldiers in similar positions.
The class of veterans claims the National Guard and defendant the Department of Defense are notorious for failing to keep proper records and are known to "plug in to documents whatever they wish."
"Plaintiffs do not owe any monies to the California Army National Guard because the running of the statute of limitations makes the matter moot," the complaint states.
In the 20-page complaint, Strother says he wasn't allowed to contest the recoupment letter despite providing defendants records proving he didn't change his military occupational specialty.
"The refusal to acknowledge plaintiff Sgt. Bryan James Strother did not change his military occupational specialty is either intentional or shows a complete lack of understanding by the Department of Defense," the complaint states.
Neither the Defense Department nor Strother's attorney returned phone calls requesting comment Friday afternoon.
According to the complaint, the United States Department of Defense has mismanaged $8.5 trillion and that it uses computer software dating back to 1959. The "archaic accounting systems" helped contribute to defendants' decision to recoup bonuses from veterans.
Plaintiff class is asking for declaratory relief barring defendants from recouping enlistment bonuses as well as reasonable damages. Daniel Willman of Michigan and Samuel Lasser of San Francisco are representing the plaintiff class.
To Learn More:
Justice Dept. Indicts 25 in Army National Guard Recruiting Fraud Scandal (by Steve Straehley, AllGov)
6 States Refuse Benefits to Gay National Guard Spouses (by Noel Brinkerhoff, AllGov)