Vermont First State to Require GMO Food Labeling, But Preemptive Weaker Federal Bill Looms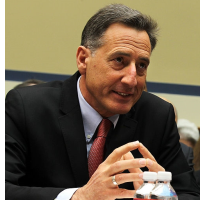 Gov. Peter Shumlin (photo: Alex Wong, Getty Images)
By Dave Gram, Associated Press
MONTPELIER, Vt. (AP) — Democratic presidential candidate Bernie Sanders joined other Vermont leaders Friday to celebrate the state's newly implemented law requiring labels on genetically modified food and blast proposed federal legislation that could pre-empt the state requirement.
Vermont became the first state Friday to require the labeling of food containing GMOs, or genetically modified organisms.
"Vermont had the courage to say ... 'If it's the right thing to do, what are we waiting for,'" Democratic Gov. Peter Shumlin said to cheers from a rally audience of about 150 people on the Statehouse steps.
Vermont Sen. Sanders sharply criticized the compromise bill in Congress that called for less stringent regulations, and said the bill has several shortcomings. The Senate is expected to vote on the bill next week.
The federal legislation would allow an electronic code on a package to stand in for a label, requiring a smartphone and internet connection for a consumer to know whether the product contained genetically modified ingredients, Sanders said. Many products, including corn products, beet sugar and soy oils that are in many processed foods, could be exempt from the requirement, he added.
"Perhaps most shockingly and what exposes the partial nature of this legislation, this bill imposes no penalties whatsoever for violating the labeling requirement, making the legislation essentially meaningless," Sanders said.
Vermont's law imposes a penalty of $1,000 per day per genetically modified product that is not labeled as required.
At the Hunger Mountain Co-op in Montpelier, which specializes in natural foods and local products, general manager Kari Bradley said it was frustrating that a state law the cooperative has supported since its inception in the legislature might be erased from the books by federal action.
He said food co-ops elsewhere in the country cheered them on but their states didn't have the political climate to pass a labeling law. The federal bill is "not a solution that's in the spirit of the Vermont law," he said.
Food producers argue the science doesn't find significant difference between foods that are genetically modified and those that are not. But they also say they don't want to end up with a patchwork of multiple state regulatory schemes.
Industry groups including the Grocery Manufacturers Association have sued to block the Vermont law, arguing that the labeling requirement amounts to compelled speech in violation of the First Amendment. The litigation is pending in federal court.
Meanwhile, food companies and retailers said they have taken steps to be in compliance as of July 1, the start date of the state law that passed in 2014.
At Mehuron's Supermarket in Waitsfield, manager Bruce Hyde Jr. said he and his team were ready while noting that stores like his have to rely on national food companies to apply labels to products with genetically modified ingredients.
Campbell Soup Co. has printed and shipped product labeled to comply with Vermont's law, company spokesman Thomas Hushen said, and the company remains "committed to label on-package" throughout the country.
Coca-Cola spokesman Ben Sheidler said the company was making a "good-faith effort" to comply with the law but some lower-volume products and packages "could be temporarily unavailable in Vermont."
Eric Blom, a spokesman for Maine-based regional chain Hannaford Supermarkets, said the chain has new labels for any store-brand products it carries that contain genetically modified ingredients and those labels will be going to Vermont and throughout Hannaford's distribution system.
Grocery Manufacturers Association spokesman Roger Lowe said the group hopes Congress acts quickly on the legislation. He said, "Since the state of Vermont has given companies 30 days to correct any alleged GMO labeling violations, the immediate impact, if any, on companies in July should be limited."
To Learn More:
GMO Food Labeling Advocates Attack Bipartisan Senate Deal on Industry-Backed Labeling Rules (by Mary Clare Jalonick, Associated Press)
Senate Republicans Fail in Attempt to Block States from Requiring GMO Food Labeling (by Mary Clare Jalonick, Associated Press)
House Members who Voted to Stop States from Mandating GMO Labeling Received $30 Million from Agribusiness and Food Industries (by Steve Straehley, AllGov)
House Republicans Fast-Track Bill to Prevent States from Labeling GMO Foods (by Noel Brinkerhoff and Steve Straehley, AllGov)
Americans Overwhelmingly Want GMO Labeling…Until Big Companies Pour Money into Election Campaigns (by Noel Brinkerhoff, AllGov)