Americans Overwhelmingly Want GMO Labeling…Until Big Companies Pour Money into Election Campaigns
Tuesday, January 07, 2014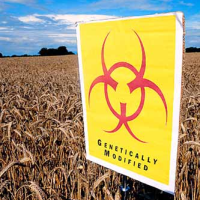 (photo: greenprophet.com)
Public opinion surveys conducted over the past four years show the vast majority of Americans want their food products labeled to reveal the presence of any genetically modified organisms (GMO). To date, however, few labeling campaigns have succeeded at the state level, where corporate interests have spent considerable amounts of money to slow the growing effort to adopt new laws educating consumers about what they're eating.
The idea of labeling laws has enjoyed overwhelming support since at least 2010. In October 2010, Thomson Reuters asked more than 3,000 respondents if they believed foods should be labeled to indicate the presence of GMOs. More than 93% said yes.
Three years later, the same level of support was evident in a New York Times poll that revealed 93% said foods containing GMO ingredients should be labeled.
But proponents of labeling laws have had a tough time winning the battle in Congress and in statehouses. The United States currently has no nationwide GMO labeling statute, putting it at odds with 60 other nations.
This despite the fact that nearly all soybeans, sugar beets, corn and canola crops in the U.S. are genetically engineered.
But food-safety advocates are pushing hard for bills in state capitols, more than half of which considered legislation requiring labeling for GMO foods. So far, only Maine and Connecticut have adopted such measures, though neither law has gone into effect.
Proponents thought California voters would approve a 2012 ballot initiative mandating GMO labeling. Six weeks before Election Day, polls showed pro-labelers outnumbering anti-labelers 67% to 22%. But the proposition's strong level of popular support eroded by Election Day, a victim of a $46 million opposition campaign funded by the likes of DuPont, Monsanto, Coca-Cola, PepsiCo, Kraft Foods and others. Backers of the initiative were only able to raise $9 million.
Biotech and large food companies also won the day in Washington state, which also narrowly defeated a GMO labeling plan.
Supporters of GMO labeling have not given up, insisting more bills will be introduced in 2014 in state legislatures.
"We expect even more states this year" to join the battle, particularly Oregon and Colorado, Colin O'Neil of the Center for Food Safety, a nonprofit organization that opposes GMO foods, told Agence France-Presse.
-Noel Brinkerhoff
To Learn More:
Battle over GMO Labeling Rumbling in US (by Veronique Dupont, Agence France-Presse)
Strong Support for Labeling Modified Foods (by Allison Kopicki, New York Times)
Omnibus Poll (YouGov)
National Survey of Healthcare Consumers: Genetically Engineered Food (Thomson Reuters)
Connecticut's New Law Ordering Labeling of GMO Foods not as Big a Deal as it Seems (by Noel Brinkerhoff, AllGov)
As Ad Money Pours In, Support for GMO Labeling Plummets (by Kern Broder, AllGov California)