House Members who Voted to Stop States from Mandating GMO Labeling Received $30 Million from Agribusiness and Food Industries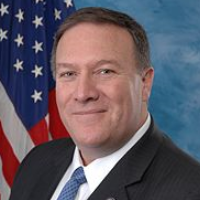 Rep. Mike Pompeo
The House of Representatives last week approved a bill, the so-called Safe and Accurate Food Labeling Act of 2015, which will halt state efforts to label genetically modified foods as such. The vote did not break down on party lines, but the bill's backers appeared to have one thing in common—love of the color green.
According to information at Opensecrets.org, those supporting the bill got about $30 million to do so from Big Ag. The 275 representatives of both parties who voted to keep consumers in the dark about the food they're consuming averaged $108,900 in contributions from agricultural interests such as Monsanto and food lobbyists such as the Grocery Manufacturers Association in the 2014 election cycle.
Rep. Collin Peterson (D-Minnesota), the ranking member of the Agriculture Committee, got nearly $400,000 from agricultural interests in the last cycle. Committee member Frank Lucas (R-Oklahoma) received about $350,000 from Big Ag in 2014. Bill sponsor Mike Pompeo (R-Kansas) received $10,000 just from the Grocery Manufacturers, the most that group gave any candidate in the 2014 cycle.
"Passage of this bill is an attempt by Monsanto and its agribusiness cronies to crush the democratic decision-making of tens of millions of Americans. Corporate influence has won and the voice of the people has been ignored," Andrew Kimbrell, executive director of Center for Food Safety, said.
The good news is that so far, there is no companion bill in the Senate. The bad news is that Big Ag has plenty of senators on their payroll as well. Sen. Thad Cochran (R-Mississippi), for instance, received almost $1 million from ag interests during the last election.
-Steve Straehley
To Learn More:
Three Times as Much Agribusiness Money, on Average, for House Members Voting to Bar GMO Labeling (by Alex Lazar, Opensecrets.org)
House of Representatives Ignores Will of the People in Passage of Anti-labeling DARK Act (Center for Food Safety)
'Corporate Influence Has Won': House Passes Anti-GMO Labeling Bill (by Andrea Germanos, Common Dreams)
House Republicans Fast-Track Bill to Prevent States from Labeling GMO Foods (by Noel Brinkerhoff and Steve Straehley, AllGov)
Vermont First State to Require Labeling of Genetically Engineered Foods (by Noel Brinkerhoff, AllGov)