U.S. Justice Dept. Sues Michigan City for Religious Discrimination in Rejecting Mosque Application
Sunday, December 18, 2016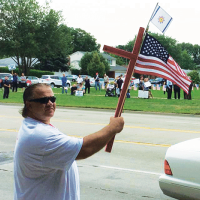 Sterling Heights community protests proposed mosque (photo: Facebook)
By Christine Hauser, New York Times
The Justice Department has filed a lawsuit against a city in Eastern Michigan, saying it discriminated against a Muslim group by rejecting its application to build a mosque there.
The government's lawsuit, filed Thursday, said the denial of the application from the group, the American Islamic Community Center, was the first time in a decade that the planning commission in Sterling Heights, about 16 miles from downtown Detroit, has denied a land use application for a house of worship.
It noted that the city's decision came after residents spoke in opposition to the mosque in public meetings. It quoted some who said "remember 9/11," and others who claimed Christians would face difficulty in trying to build a church in Iraq.
"We are alleging that Sterling Heights discriminated against the American Islamic Community Center on the basis of religion and placed a substantial burden on the community's ability to exercise its religion by denying approval to build a mosque," Barbara L. McQuade, U.S. attorney for the Eastern District of Michigan, said in a statement.
The department, through its civil rights division, based its lawsuit on the Religious Land Use and Institutionalized Persons Act, which is meant to prohibit religious discrimination and prevent unjustified burdens on people exercising their religion.
Vanita Gupta, head of the civil rights division, said the Justice Department would continue to "aggressively protect" the rights of communities to live, pray and worship.
"We have definitely seen a spike in these cases, in problems when it comes to minority religions," Azzam Elder, lead lawyer for the community center, said Friday.
On Friday, a spokeswoman for Sterling Heights, Bridget Doyle, said in an email that there would be no comment beyond the statement released Thursday that said the city was "surprised and disappointed" by the lawsuit.
The city's statement said the community center's application was denied because it was incompatible with adjoining uses and offered insufficient parking and because of concerns over the size and height of the building. The city denied that "emotional feelings tied to religious beliefs either for or against the applicant" played a part.
To Learn More:
Michigan Community's Anti-Muslim Furor Derailed Plans for Mosque (by Jack Bouboushian, Courthouse News Service)
Justice Department Says Town Discriminated Against Muslims (by Brandi Buchman, Courthouse News Service)
Palm Beach Mosque Withdrawn as Polling Site after Anti-Islamic Voter Backlash (by Terry Spencer, Associated Press)
Tennessee County Continues to Oppose Allowing Muslims to Worship at New Mosque Depite Court Ruling (by David Wallechinsky and Noel Brinkerhoff, AllGov)
Controversial New York Islamic Center Opens…Without Controversy (by Noel Brinkerhoff, AllGov)