Major Tech Firms, Fearing Loss of Profits, Call for Reform of Government Surveillance; Obama Hedges
Wednesday, December 11, 2013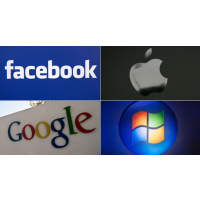 (AP Graphic)
Some of the world's largest technology companies have told the Obama administration that major reforms of government surveillance must be adopted in order to repair the damage done to the public's—and their customers'—trust.
In an open letter, Google, Microsoft, Apple, Yahoo, Facebook, Twitter, AOL and LinkedIn called upon President Barack Obama and Congress to better regulate Internet spying by government agencies.
They wrote that "the balance in many countries has tipped too far in favor of the state and away from the rights of the individual," and that "it is time for the world's governments to address the practices and laws regulating government surveillance of individuals and access to their information."
Company executives recommended several reforms for adoption, including:
Limiting governments' authority to collect users' information
Creating more oversight and accountability regarding government spy operations
Expanding transparency about government demands for intelligence
A top Microsoft official, general counsel Brad Smith, alluded to the NSA spying that's been revealed by whistleblower Edward Snowden, which showed how the agency had collected data related to Americans' emails, texts and phone calls.
"People won't use technology they don't trust," Smith said in a statement. "Governments have put this trust at risk, and governments need to help restore it."
Because the vast amount of personal user data stored by these companies is targeted and swept up by the NSA, foreign governments are developing laws to discourage their citizens from using the services of U.S. tech companies. It is predicted, based on current trends, that the industry may lose 25% of its entire revenue—about $180 billion—by 2016, according to technology advisory firm Forrester Research.
Privacy advocates noted that the tech giants had to speak out to protect their bottom-line.
"It's now in their business and economic interest to protect their users' privacy and to aggressively push for changes," Trevor Timm, an activist at the Electronic Frontier Foundation, told The New York Times. "The N.S.A. mass-surveillance programs exist for a simple reason: cooperation with the tech and telecom companies. If the tech companies no longer want to cooperate, they have a lot of leverage to force significant reform."
The eight tech firms are worth a combined $1.4 trillion. The fact that they joined forces to release this statement, which had the direct participation of some of the companies' founders—such as Facebook's Mark Zuckerberg and Google's Larry Page—speaks volumes, according to Center for Democracy and Technology president Leslie Harris.
"This is a major game-changer," she told The Guardian. "These companies…are being told they can't tell their users about [the government's data requests]; they are losing business around the world and discovering that their data centers are being broken into. And I think they're ready to fight back."
The declaration comes only days after Obama appeared to say publicly that it was time to make some changes within the NSA.
"Having done an independent review and brought in a whole bunch of folks—civil libertarians and lawyers and others—to examine what's being done, I'll be proposing some self-restraint on the N.S.A., and you know, to initiate some reforms that can give people more confidence," Obama said last week on the MSNBC program "Hardball."
However, the key phrase in Obama's statement—"self-restraint"—implies that he has no intention of regulating the NSA and that the spy agency will still be free to do whatever it wants.
-Noel Brinkerhoff, Danny Biederman
To Learn More:
Tech Giants Issue Call for Limits on Government Surveillance of Users (by Edward Wyatt and Claire Cain Miller, New York Times)
Tech Giants' Demand for NSA Reform 'A Major Game-Changer', Advocates Say (by Paul Lewis, The Guardian)
Tech Giants Call for Tighter Limits on Government Surveillance (PBS News Hour)
Reform Government Surveillance (AOL, Apple, Facebook, Google, LinkedIn, Microsoft, Twitter and Yahoo!)
Microsoft and Google Team to Sue Obama Administration to Release Surveillance Information (by Noel Brinkerhoff, AllGov)
Tech Companies Wrestle with U.S. Government over Disclosure of Data Requests (by Noel Brinkerhoff and Danny Biederman, AllGov)
NSA and FBI Secretly Mining Data from Internet Service Providers (by Noel Brinkerhoff, AllGov)