U.S. Companies Walk Fine Line with Post-Election Statements
Monday, November 14, 2016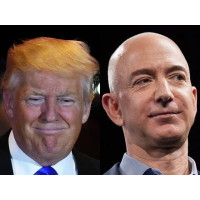 Donald Trump, Jeff Bezos (photo: Getty)
By Christine Hausernov, New York Times
Donald J. Trump's victory in the presidential race has presented some companies with a new challenge: how to find the right balance in their postelection messages to employees and customers.
Matt Maloney, the chief executive of the online food delivery company GrubHub, found himself in a clash of business and politics this week after he sent an email to employees on Wednesday that appeared to say that anyone who disagreed with the company's policy of inclusion and diversity should resign.
"As we all try to understand what this vote means to us, I want to affirm to anyone on our team that is scared or feels personally exposed, that I and everyone else here at GrubHub will fight for your dignity and your right to make a better life for yourself and your family here in the United States," Mr. Maloney wrote.
"If you do not agree with this statement, then please reply to this email with your resignation because you have no place here," he said.
But on Thursday, in a sign of the new political flash points on the corporate landscape, a follow-up message was posted to the company's website with the original email attached. The new message said the message had been misconstrued.
"I want to clarify that I did not ask for anyone to resign if they voted for Trump," Mr. Maloney wrote. "I would never make such a demand. To the contrary, the message of the email is that we do not tolerate discriminatory activity or hateful commentary in the workplace, and that we will stand up for our employees."
The footwear company New Balance also encountered a postelection backlash after its vice president for communications, Matt LeBretton, said after Mr. Trump's victory that "we feel things are going to move in the right direction."
The remarks were made in an interview with a Wall Street Journal reporter, Sara Germano, who published them on Twitter on Wednesday.
The reporter also tweeted that the remarks were made within the context of global trade, noting that New Balance, whose footwear is made in the United States, has publicly opposed the Trans-Pacific Partnership.
Some interpreted the comments as supportive of Mr. Trump, and they drew a backlash. Online, images of New Balance footwear being burned or thrown in the garbage were posted, and there were calls for a boycott.
On Thursday, New Balance emailed a message to other news media outlets and Sole Collector, which reports on the sneaker industry and its culture: "As the only major company that still makes athletic shoes in the United States, New Balance has a unique perspective on trade and trade policy in that we want to make more shoes in the United States, not less."
"New Balance publicly supported the trade positions of Hillary Clinton, Bernie Sanders and Donald Trump prior to Election Day that focused on American manufacturing job creation and we continue to support them today," it said.
Another New Balance message was published on Twitter on Thursday that also seemed to allude to the controversy, saying it welcomed "all walks of life."
Meanwhile, Jeff Bezos, the chief executive of Amazon and owner of The Washington Post, congratulated Mr. Trump on Twitter on Thursday. Mr. Bezos added that he had an "open mind" and wished Mr. Trump "great success in his service to the country."
But comments below the message spoke of canceling Amazon Prime subscriptions and boycotting Amazon altogether, although some were supportive.
The ice cream company Ben & Jerry's posted statements on its website advocating for voting rights and climate change action. After Mr. Trump's election, it published an open letter to Mr. Trump on Thursday that it described as a "challenge" to "hear the voices of all Americans."
"Whoa, does your new title sound as weird to you as it does to us?" the letter said, addressing Mr. Trump. "Well, we'll all get used to it quickly."
"And while we recognize that this is the outcome that many wanted, this is also an outcome that leaves half of our country feeling sadness and shock," it said. "We want to honor all of our nation's experience."
Chris Miller, the activism manager at Ben & Jerry's, said in an interview on Friday that the letter to Mr. Trump had reached about 350,000 people on the company's Facebook page and that the feedback had been "overwhelmingly positive."
But he said the letter took longer to draft than the company's other statements about causes it supports because more "eyeballs" were put on it as the company strove for balance between people who were saddened by the result and those whom "mainstream establishment candidates" did not reach.
"We wanted to be part of setting the tone here," Mr. Miller said.
To Learn More:
Bernie Sanders Gets Ice Cream Named After Him (by Gina Cherelus, Reuters)
Pizza Companies are Overwhelmingly Republican (by Steve Straehley, AllGov)
Most Republican Company in U.S. makes Wonder Bread and Nature's Own; Exxon and Halliburton 9th and 10th (by Noel Brinkerhoff, AllGov)
Hidden Fallout from Citizens United Case: Employers Allowed to Badger Employees with Election Propaganda (by Noel Brinkerhoff and David Wallechinsky, AllGov)
Coal Miners Complain They were Forced to Attend Romney Rally…and then Lost a Day's Pay for not Working (by Noel Brinkerhoff, AllGov)