Most Republican Company in U.S. makes Wonder Bread and Nature's Own; Exxon and Halliburton 9th and 10th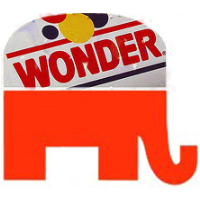 (graphic: Steve Straehley, AllGov)
Mention the word "Republican" and "company" in the same sentence and many might assume the discussion is about Koch Industries, the business empire of conservatives Charles and David Koch, the most prominent right-wing bogeymen in U.S. politics these days. Or perhaps some might think of Halliburton, where Vice President Dick Cheney once worked as an executive.
Neither Koch Industries nor Halliburton, however, can be called the "most Republican company" in America. Both are on the list of businesses that give most of their political contributions to GOP candidates, but the No. 1 distinction goes to Flowers Foods, maker of Wonder Bread, Nature's Own baked goods and Tastykakes.
The political action committee for the Georgia-based company since 1979 has contributed 99% of its political checks to Republicans, according to David Willis at The New York Times. That's a higher percentage than Koch Industries (88%) or Halliburton (90%).
The second most Republican company is Illinois Tool Works (ITW), a century-old Fortune 200 manufacturing company whose divisions operate in the U.S. and around the world. The GOP gets 96% of political donations from ITW, which is owned by descendants of founder Byron L. Smith.
Other top GOP friendly corporations include Cooper Industries (now owned by Eaton), Devon Energy, Bloomin' Brands (formerly Outback Steakhouse), Timken, Marathon Petroleum and ExxonMobil.
-Noel Brinkerhoff
To Learn More:
The Most Republican Company? The Makers of Wonder Bread (by Derek Willis, New York Times)
Flowers Foods Blossoming (by Josh Sosland, Food Business News)
Chicago's Billionaire Smith Family Anoints Its Next Generation (by Steven R. Strahler, Crain's Chicago Business)