Pizza Companies are Overwhelmingly Republican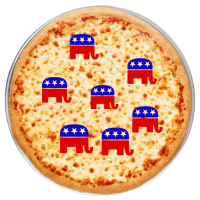 (photo illustration: Steve Straehley, AllGov)
You wouldn't think pizza would need a lobby. The wonderful cheesy goodness that is pizza appeals to most Americans without regard to political persuasion. But corporate interests behind the savory treat have spent millions trying to keep consumers in the dark about what they're eating when they grab a slice and rolling back regulations that make our children healthier.
Pizza companies are actively involved in politics, spending $1.5 million during the 2012 and 2014 elections, according to Andrew Martin of Bloomberg Business. And while the monetary amount doesn't approach that of the Koch brothers, the direction in which it flows does—88% of the money went to Republican candidates and support groups. Mitt Romney got $110,807 of pizza industry contributions in his 2012 race. And who can forget former Godfather's Pizza CEO Herman Cain, who was briefly the frontrunner for the GOP nomination in that cycle?
The biggest pizza campaign donor is Pizza Hut. Of the $685,369 the company contributed, 98.9% went to Republicans. Papa John's was 86.8% Republican.
The pizza industry has two main political goals. The first is to fight off attempts to force calorie and nutrition information to be accessible to consumers. Dominos, Papa John's and other chains claim there are too many combinations of ingredients to make calorie counts feasible. Also, they claim most pizza is ordered over the phone or online, so most consumers don't see signs posted in restaurants anyway.
Pizza companies did win the right to list nutrition information by the slice, rather than an entire pie's worth. Rep. Cathy McMorris Rodgers (R-Washington) says the labeling requirements are "suffocating America's economy," according to Politico, and has introduced a bill that would roll back some of the regulations.
Big Pizza's second goal is to roll back school lunch nutrition requirements that make the food less likely to be served in cafeterias. Rules that mandate maximum amounts of sodium and fat and require whole grains are anathema to frozen pizza makers such as Schwan's that supply school food programs. That campaign is getting some traction now that Congress is controlled by Republicans eager to hand First Lady Michelle Obama a setback in her fight to improve the eating habits of American children.
At least one pizza mogul came out strongly against the Affordable Care Act (ACA). John Schnatter of Papa John's claimed he'd lose about 15 cents per pizza if his company had to offer employees insurance under the ACA.
So when you're ordering a large with pepperoni, keep in mind that some of your money is going to fund the right's quest to enrich corporate America at the expense of the health of Americans. And don't forget to tip your driver.
-Steve Straehley
To Learn More:
Inside the Powerful Lobby Fighting for Your Right to Eat Pizza (by Andrew Martin, Bloomberg Business)
2015, the Year the GOP Strikes Back at Obama Food Policies (by Jenny Hopkinson, Helena Bottemiller Evich, Bill Tomson and Chase Purdy, Politico)
Pizza Cartel Fights Calorie Count Disclosure (by Noel Brinkerhoff, AllGov)
USDA Upgrades School Breakfast and Lunch Programs, but Pizza Still a Vegetable (by Noel Brinkerhoff and David Wallechinsky, AllGov)