Trump's Pick for CIA Director Would Reinstate Collection of Americans' Phone Data
Saturday, November 26, 2016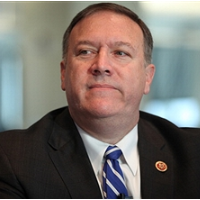 Mike Pompeo (photo: Getty Images)
By Bob Egelko, San Francisco Chronicle via New York Times
The federal government's long-hidden authority to sweep up records of all phone calls made in the U.S. was repealed last year in a bipartisan vote of Congress. But President-elect Donald Trump's choice to head the CIA has called for reinstatement of the data haul and said its elimination was part of ``Edward Snowden's vision of America.''
Snowden, a former National Security Agency contractor, revealed in 2013 that the NSA had been collecting bulk data on U.S. phone calls without a warrant for more than a decade. President George W. Bush's administration had ordered the collection unilaterally after the terrorist attacks of Sept. 11, 2001, then obtained approval from a secret intelligence court in 2006.
The records contain so-called metadata, showing the numbers called and duration of the calls, but not the content of the messages. The law that President Obama signed in June 2015, called the USA Freedom Act, leaves the records with the phone companies but allows the National Security Agency to request data on individual customers without a court order.
Rep. Mike Pompeo, R-Kan., whom Trump named last week as his choice for CIA director, was among a minority of House Republicans who opposed the change. In a December 2015 column in the National Review magazine, he attacked Republican presidential candidates who supported the new law.
``Those who today suggest that the USA Freedom Act, which gutted the National Security Agency's metadata program, enables the intelligence community to better prevent and investigate threats against the U.S. are lying,'' Pompeo wrote.
``Less intelligence capacity equals less safety. To share Edward Snowden's vision of America as the problem is to come down on the side of President Obama's diminishing willingness to collect intelligence on jihadis.''
In a January 2016 Wall Street Journal column co-authored by conservative commentator David Rivkin, Pompeo called for Congress to reauthorize collection of U.S. phone records, which would be combined with ``publicly available financial and lifestyle information'' into a government database.
``Legal and bureaucratic impediments to surveillance should be removed,'' Pompeo and Rivkin wrote.
Neither Trump's presidential transition office nor Pompeo's congressional office responded Monday to inquiries about the issue. But privacy advocates predicted congressional resistance to any attempt to reinstate government authority to gather Americans' phone records.
``This was an invasion of privacy for every single American, Americans who had never been accused of any crime,'' said Neema Singh Guliani, legislative counsel for the American Civil Liberties Union. And a review by the government's Privacy and Civil Liberties Oversight Board found that the records haul ``never played a substantial role in stopping an act of terrorism or stopping a terrorist suspect,'' she said.
``I think a lot of Americans would be very nervous to learn Donald Trump has access to our phone records,'' said Elizabeth Goitein, co-director of the Liberty and National Security Program at the Brennan Center for Justice in New York. ``It would make a lot of Congress nervous as well.''
Although Snowden, now in Russia, has been accused of wrongdoing by both Trump and his defeated Democratic presidential opponent, Hillary Clinton, Goitein said Pompeo's attempt to discredit the former NSA contractor had misfired.
``If Edward Snowden's vision of America is an America that doesn't spy on Americans, I guess (Pompeo's) right,'' she said.
Because the USA Freedom Act was passed by Congress, it would take an act of Congress to repeal it. But the Trump administration could act within the law to expand data collection.
For example, said Singh Guliani, the U.S. Drug Enforcement Administration had its own program since the 1990s of collecting metadata on phone calls to and from countries associated with drug trafficking, including Canada, Mexico and most of Central and South America. The Obama administration suspended that program in September 2013 after Snowden's disclosures, but a new administration might revive it.
Snowden also disclosed records of surveillance programs that monitored the content of phone calls to and from certain countries without court approval, programs that the Trump administration could expand, Singh Guliani said.
Goitein noted that the USA Freedom Act was compromise legislation that allowed the government to obtain not only individual records from a phone company, but also records of anyone the targeted person had called. And she said one of the law's safeguards, requiring the secret court to publish a summary of any ruling it issues on a significant issue, allows the government to decide which issues are ``significant'' and what information should be withheld for security reasons.
Susan Freiwald, a University of San Francisco law professor who teaches courses in privacy and cyberlaw, said Pompeo and his future colleagues will have leeway to interpret the law ``broadly so they may collect vast amounts of information.''
``Pompeo is promoting the discredited view that it is always good for a government to collect more data on its people,'' she said.
To Learn More:
Director of the Central Intelligence Agency: Who Is Mike Pompeo? (by Steve Straehley, AllGov)
Privacy Advocates Wary of NSA Claim of Privacy Safeguards in New Phone Spying Program (by Dustin Volz, Reuters)
Judge Pulls Plug on NSA Mass Phone Data Collection, Even as Program Shifts Gears (by Noel Brinkerhoff, AllGov)
NSA Again Given Go-Ahead for Mass Phone Data Collection (by Noel Brinkerhoff, AllGov)
Privacy Board Report on Mass Telephone Surveillance Divides on Party Lines (by Noel Brinkerhoff, AllGov)