Judge Pulls Plug on NSA Mass Phone Data Collection, Even as Program Shifts Gears
Wednesday, November 11, 2015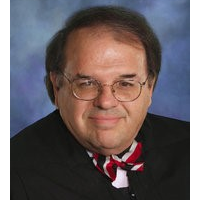 Judge Richard Leon (photo: U.S. District Court)
The National Security Agency's (NSA) controversial phone data collection program is only weeks from undergoing significant, congressionally ordered changes. But that wasn't soon enough for U.S. District Court Judge Richard Leon, who ruled on Monday that the program as currently operated is unconstitutional and should cease.
"This court simply cannot, and will not, allow the government to trump the Constitution merely because it suits the exigencies of the moment," Leon wrote in his 43-page decision. Leon's decision stood in contrast to a federal appeals court in New York that recently ruled the other way on NSA surveillance. The New York court said there was little point in halting a program that will change as of November 29, when the NSA will no longer routinely collect Americans' phone records. The agency will still be able to access them from phone companies with a warrant, however.
Conservative activist Larry Klayman, who filed the suit representing several individuals who claimed the NSA violated their rights by collecting their phone data, called the decision "a tremendous victory for the American people."
Leon was not dissuaded by the coming change, saying there would still be constitutional issues revolving around the government's use of technology to conduct surveillance.
"Although this court appreciates the zealousness with which the government seeks to protect the citizens of our nation, that same government bears just as great a responsibility to protect the individual liberties of those very citizens," he wrote.
The Department of Justice, representing the NSA, responded to Leon's ruling by filing an emergency request to stay the judge's decision, "saying that the technology behind the surveillance is so complex that to immediately halt collection on one individual would require them to stop all the collection," according to The Wall Street Journal. Leon refused the government's request to stay his order.
-Noel Brinkerhoff
To Learn More:
Federal Judge Rules against NSA Phone Surveillance Program (by Devlin Barrett, Wall St. Journal)
Judge Deals a Blow to NSA Data Collection Program (by Charlie Savage, New York Times)
Klayman et al v. Obama et al (U.S. District Court for the District of Columbia)
"Orwellian" NSA Phone Spying Probably Unconstitutional, Rules Outraged Federal Judge (by Danny Biederman and Noel Brinkerhoff, AllGov)
Left and Right Unite to Sue NSA over Telephone Records Surveillance (by Matt Bewig, AllGov)