Director of the Central Intelligence Agency: Who Is Mike Pompeo?
Tuesday, November 22, 2016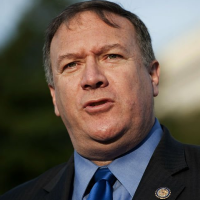 Mike Pompeo (photo: Tom Williams, Getty Images)
Rep. Mike Pompeo (R-Kansas), a member of the House Intelligence Committee, was announced on November 18, 2016, to be President-elect Donald Trump's choice to be Director of the Central Intelligence Agency (CIA).
Although Pompeo represents Kansas' Fourth Congressional District, which includes Wichita, his roots are in Southern California. He was born in Orange on December 30, 1963, to Dorothy and Wayne Pompeo and grew up in Santa Ana. He attended Los Amigos High School, where he played basketball, and graduated third in his class of 285 in 1982.
Pompeo won an appointment to the U.S. Military Academy at West Point. He graduated from there in 1986 at the top of his class with a B.S. in mechanical engineering. He also was married right after graduation, to Leslie Libert of Islip, New York. After further training, Pompeo was sent to Europe, where he was a tank officer, a cavalry troop executive officer and a squadron maintenance officer in Germany. He left active duty in 1991 with the rank of captain.
Pompeo's next stop was Harvard Law School. He graduated in 1994 after having been editor of the Harvard Law Review. He then went to work for two years for the Washington law firm of Williams & Connolly, specializing in tax litigation.
Pompeo moved to Wichita, near his mother's childhood home, and founded aircraft parts manufacturer Thayer Aerospace with some Army friends. Ironically, given Trump's stance on Mexico, Pompeo was criticized during his first congressional run for having outsourced jobs there while at Thayer. At the time, Pompeo claimed he had a confidential contractual obligation to put jobs in Mexicali.
Being in Wichita also put Pompeo in proximity to the billionaire brothers Charles and David Koch, whose Koch Industries is based there. The Kochs became investors in Thayer, beginning a lucrative relationship for Pompeo.
In 2006, Pompeo left Thayer (subsequently known as Nex-Tech and now as 3P Manufacturing) to become president of Sentry International, an oilfield equipment company and affiliate of Koch Industries.
After representing Kansas on the Republican National Committee, Pompeo ran for Congress in 2010, getting plenty of help from the Koch brothers. The $80,000 he got from Koch and its employees made him the top recipient of money from the corporation in that election cycle. When Pompeo won first a primary against incumbent Todd Tiahrt, then the general election, he appointed a former Koch attorney as his chief of staff. Among Pompeo's first actions in Congress was the proposal of anti-environmental legislation favorable to Koch interests.
"I'm sure he would vigorously dispute this, but it's hard not to characterize him as the congressman from Koch," Burdett Loomis, a University of Kansas political science professor, told The Washington Post in 2011. According to The New York Times, Pompeo has received $357,000 from Koch interests over the years. He also served as a trustee for the Koch-organized Kansas Policy Institute, then known as the Flint Hills Center for Public Policy.
Pompeo was a co-sponsor of the Fair Tax Act of 2011, which would have repealed the federal income tax, payroll taxes, estate tax and gift taxes, and replaced them with a 23% sales tax.
As a member of the House Intelligence Committee, Pompeo has called for more surveillance and harsher treatment of suspected terrorists and has opposed President Barack Obama's deal with Iran to limit that country's nuclear capability. Pompeo called the prison at Guantánamo "critical to national security." He also said the prison "has been a goldmine of intelligence about radical Islamic terrorism," and claimed that some of its inmates have declined to be resettled, choosing to remain captives. On National Security Agency monitoring of Americans' communications, Pompeo told McClatchy newspapers, "I believe that program has proven to be a very valuable asset for the intelligence community and for law enforcement."
Pompeo praised Apple, Google, Microsoft, Dropbox, Evernote, Facebook, LinkedIn, Twitter, and Yahoo for cooperating with federal government surveillance requests. He also suggested that NSA whistleblower Edward Snowden be given the death penalty.
Pompeo served on the special committee investigating the Benghazi attacks. Pompeo savaged former Secretary of State Hillary Clinton during the hearings. And despite evidence to the contrary, Pompeo claimed in an addendum to the committee's report that the military could have stopped the attacks.
In January 2016, Pompeo co-chaired a fundraiser for presidential candidate Marco Rubio.
Since being tapped for CIA chief, Pompeo has received support from many Republicans and even some Democrats, who say that Pompeo at least has policy knowledge.
Pompeo and his current wife, Wichita native Susan, have a grown son, Nicholas.
-Steve Straehley
To Learn More:
Mike Pompeo on the Issues (OnTheIssues.org)
Santa Ana Cadet Wins Top West Point Honor (by Gary Jarlson, Los Angeles Times)
New CIA Director Mike Pompeo on Torture, Muslims, Terror, Iran, NSA Spying (by Lindsay Wise, McClatchy Newspapers)
Mike Pompeo, Trump's Pick for CIA Director, Could Take the Agency Back to its Darkest Days (by Jennifer Williams, Vox)
Pompeo Draws Liberal Groups' Ire (by Dan Eggen, Washington Post)
Mike Pompeo, Sharp Critic of Hillary Clinton, Is Trump's Pick to Lead CIA (by Mark Mazzetti, New York Times)