Tech Companies Wrestle with U.S. Government over Disclosure of Data Requests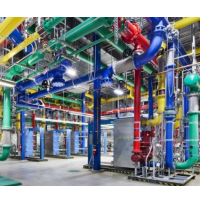 Google data center cooling system (photo: Connie Zhou, AP, Google)
As much as the National Security Agency (NSA) has been the focus of the current controversy over domestic surveillance, it is Internet companies that are dealing with customers and their concerns over whether their communications are being swept up by Washington. Not surprisingly, giants like Google, Facebook and others want to calm their users and tell them what's going on.
But the federal government won't let them.
Google, Facebook, Microsoft and Twitter have asked officials in Washington to let them tell the public how often the companies get requests under the Foreign Intelligence Surveillance Act (FISA).
So far, the Federal Bureau of Investigation (FBI) and the Department of Justice have largely balked at allowing the companies to provide any really useful information.
What Google and others can reveal are numbers about the FISA requests—but only if they're mixed in with the multitude of other requests that they receive from local, state and federal authorities pertaining to ordinary criminal investigations.
Sina Khanifar, a privacy activist who helped launch Stopwatching.us, a coalition demanding more information about NSA surveillance efforts, accused the government of "failing to offer the public anything but the bare minimum amount of transparency," according to Mother Jones.
Faced with this caveat, Google and Twitter decided to not disclose anything.
"Lumping national security requests together with criminal requests—as some companies have been permitted to do—would be a backward step for our users," an unidentified Google spokesperson told Agence France-Presse.
Microsoft said that in the second half of last year it received between 6,000 and 7,000 criminal and national security warrants, subpoenas, and orders affecting up to 32,000 accounts.
Facebook said that, during that same period, government agencies made between 9,000 and 10,000 requests, covering up to 19,000 accounts. The company complied with 79% of them.
Yahoo! disclosed that between December 1, 2012 and May 31, 2013, it received between 12,000 and 13,000 requests, including FISA, criminal cases and other matters. During those same months, Apple received between 4,000 and 5,000 such data requests, covering 9,000 to 10,000 accounts. And in all of last year, Google received more than 16,400 requests covering 31,000 or more accounts.
It is unclear how many of these government requests were terrorist-related and how many were unrelated to national security.
Whatever figures these companies are ultimately allowed to release, they are likely to be inexact or lower than the actual figures. The reason is that the government gives itself permission to add more names and search data under the umbrella of every FISA request it makes, for up to a year after the initial request. It also, in the past, has insisted that the companies round out figures in increments of 1,000, rather than publishing exact numbers.
-Noel Brinkerhoff, Danny Biederman
To Learn More:
Charts: Here's How Often Google and Facebook Say Yes to Government Snoops (by Dana Liebelson, Mother Jones)
Google Asks US Court to Allow Data Query Release (by Rod Lever, Agence France-Presse)
Yahoo: U.S. Made Between 12,000 and 13,000 User Data Requests (Agence France-Presse)
More Data on Privacy, but Picture Is No Clearer (by Vindu Goel and Claire Cain Miller, New York Times)
NSA and FBI Secretly Mining Data from Internet Service Providers (by Noel Brinkerhoff, AllGov)
Because Obama Administration Demanded Google Cooperate in Surveillance, Chinese Gained Access to Targets (by Noel Brinkerhoff and Danny Biederman, AllGov)
Can Google Protect its Users while Working with the NSA? (by Noel Brinkerhoff, AllGov)