NSA and FBI Secretly Mining Data from Internet Service Providers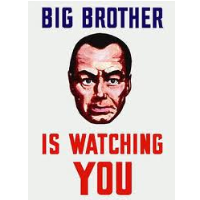 One day after it was revealed the Obama administration has accessed the phone records of Verizon customers, another major government snooping operation was exposed—this one involving the National Security Agency (NSA) and the Federal Bureau of Investigation (FBI) tapping directly into the central servers of nine leading U.S. Internet companies.
The back-to-back revelations of federal spying on Americans' private communications demonstrated how much government surveillance that began under the George W. Bush administration has grown and "has clearly been embraced and even expanded under the Obama administration," Charlie Savage, Edward Wyatt and Peter Baker wrote at The New York Times.
The newest dark news out of Washington says the NSA has been directly collecting audio and video chats, photographs, emails, documents, and connection logs from servers belonging to Microsoft, Yahoo, Google, Facebook, PalTalk, AOL, Skype, YouTube and Apple.
The Obama administration says the prying operation—code named PRISM—has allowed intelligence analysts to track foreign targets and thwart possible terrorist attacks. Officials say the effort has focused on communications between people in the U.S. and other countries.
PRISM also has involved a key U.S. ally—Great Britain—whose own version of the NSA (called the GCHQ) has secretly gathered intelligence from the same Internet companies with the assistance of the American spy agency.
Director of National Intelligence James R. Clapper confirmed the existence of PRISM and criticized the media's attempts to expose the government's clandestine intelligence programs.
In a prepared statement, Clapper said that "information collected under this program is among the most important and valuable foreign intelligence information we collect, and is used to protect our nation from a wide variety of threats. The unauthorized disclosure of information about this important and entirely legal program is reprehensible and risks important protections for the security of Americans."
President Barack Obama said, "In the abstract, you can complain about Big Brother and how this is a potential program run amuck, but when you actually look at the details, then I think we've struck the right balance." He added that he welcomed "this debate," although his actions make it clear that there is no room for debate.
Despite the assurances of Obama and Clapper, civil liberties advocates point out that there is no guarantee whatsoever that use of the gathered information is limited to combating terrorism.
The Guardian newspaper contacted several of the Internet companies to ask them about their participation in PRISM. Google, through a written statement, said: "Google cares deeply about the security of our users' data. We disclose user data to government in accordance with the law, and we review all such requests carefully. From time to time, people allege that we have created a government 'back door' into our systems, but Google does not have a back door for the government to access private user data."
A spokesman for Apple said the company had "never heard" of PRISM.
-Noel Brinkerhoff
To Learn More:
U.S., British Intelligence Mining Data from Nine U.S. Internet Companies in Broad Secret Program (by Barton Gellman and Laura Poitras, Washington Post)
NSA Prism Program Taps in to User Data of Apple, Google and others (by Glenn Greenwald and Ewen MacAskill, The Guardian)
U.S. Confirms That It Gathers Online Data Overseas (by Charlie Savage, Edward Wyatt and Peter Baker, New York Times)
Google, Apple, Facebook & AOL Deny Participating In Alleged NSA "PRISM" Program (by Danny Sullivan, Marketing Land)
Because Obama Administration Demanded Google Cooperate in Surveillance, Chinese Gained Access to Targets (by Noel Brinkerhoff and Danny Biederman, AllGov)
FBI Prepares Billion-Dollar Iris Recognition Database (by Matt Bewig, AllGov)