Senate Homeland Security Committee Approves Bill to Allow Border Patrol to Waive Laws within 100 Miles of Mexican Border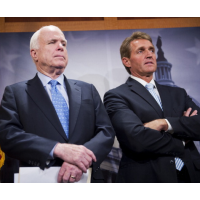 Senators John McCain and Jeff Flake (photo: Getty Images)
Federal laws within 100 miles of the Arizona border with Mexico could be waived by the Border Patrol under legislation approved by the Senate Homeland Security and Governmental Affairs Committee last week.
The bill, S.750, sponsored by Republican Senators John McCain and Jeff Flake of Arizona, has been promoted as a way to help improve security along the Mexican border by giving border patrol agents more legal authority.
The legislation would grant Customs and Border Protection (CBP) personnel "immediate access to federal land within 100 miles" of both national borders and prohibit the "Secretaries of Interior and Agriculture" from impeding any CBP activities, according to Nogales International.
But environmentalists and other critics contend the bill is unnecessary because border officials already are able to travel onto protected federal lands. A 2006 interagency agreement granted the Border Patrol the power to drive off-road in designated roadless wilderness without prior permission—something federal land managers can't even do under the Wilderness Act (pdf), according to Homeland Security Newswire.
"Border Patrol already has unfettered access to protected federal public lands along the border," Dan Millis, borderlands program coordinator for the Grand Canyon Chapter of the Sierra Club, told Homeland Security Newswire. "In fact, Border Patrol currently has more access to the border and surrounding lands than the public."
Randy Serraglio, Southwest conservation advocate at the Center for Biological Diversity, accused McCain of being uninformed about current federal rules. "The Border Patrol has not asked for this authority and has said repeatedly that they don't need it," Serraglio told Newswire. "They have full access to public lands and are working with land managers to enhance border security efforts while minimizing impacts to those lands. For someone who purports to represent the state of Arizona, Senator McCain seems remarkably ignorant about what's really going on here."
Christian Ramírez, director of the Southern Border Communities Coalition, criticized the legislation not only for what it sets out to do, but for what it doesn't do. "What any border bill should include are reforms to Customs and Border Protection to ensure greater oversight and accountability, none of which are included in S.750," he told Newswire.
"Imagine this: Border Patrol decides to construct a surveillance tower dozens of feet tall, armed with cameras and motion sensors, in Saguaro National Park — Tucson's backyard gem — with no public consultation," added Millis. "It demonstrates the overreach and overkill of waiving laws 100 miles inland. That's what McCain's bill does."
The ACLU has called for rejection of the 100-mile designation and wants CBP's authority to be limited to "no more than 25 miles from the border and…incursions onto private property to no more than 10 miles," it said in a statement. "The '100-Mile Rule' has never been subjected to meaningful debate or scrutiny in Congress. There is nothing in the record to indicate whether the Justice Department's designation of 100 miles as a 'reasonable distance' was anything other than an arbitrary selection."
More than 40 environmental organizations are urging the U.S. Senate not to pass the McCain/Flake legislation.
-Noel Brinkerhoff, Danny Biederman
To Learn More:
Bill Allowing Border Patrol Activity within 100 Miles of Border Unnecessary, Damaging: Environmentalists (Homeland Security Newswire)
GOP Lawmakers, Sierra Club at Odds on Border Bills (by Murphy Woodhouse,
Nogales International)
41 Organizations Urge Senators - NO on S.750! (Sierra Club)
Text of the Arizona Borderlands Protection and Preservation Act (Govtrack.us)
Customs and Border Protection's (CBP's) 100-Mile Rule (American Civil Liberties Union) (pdf)
John McCain Says Laws Protecting National Parks and Monuments Threaten National Security (by Noel Brinkerhoff and Steve Straehley, AllGov)
Border Patrol Arrests Extend Hundreds of Miles from Border (by Steve Straehley, AllGov)
Homeland Security Approves Seizure of Cell Phones and Laptops within 100 Miles of Border; Report Remains Secret (by Matt Bewig, AllGov)