Prosecution of Corporations Drops under Obama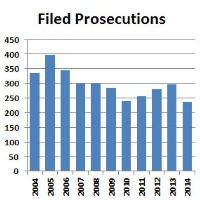 (graphic: Steve Straehley, AllGov)
The Obama administration has pursued far fewer corporate criminal prosecutions than occurred under George W. Bush, a new study shows.
After reviewing hundreds of thousands of records obtained from the Department of Justice, the Transactional Records Access Clearinghouse (TRAC) found criminal prosecutions of corporations declined by nearly 30% from 335 in 2004 to 237 in 2014.
The drop was remarkable, considering it "not only followed headline-grabbing scandals at financial, accounting and energy firms but also occurred even as the number of corporate crime cases referred to prosecutors has increased," David Sirota wrote at the International Business Times.
The no-prosecution policy has continued in cases such as the General Motors ignition switch debacle, in which the company knew the switch was defective and continued to install it in vehicles. At least 124 people have died as a result of that. However, no individual GM officials were prosecuted for the crime, with Justice officials emphasizing the company's remediation efforts, according to TRAC. One federal prosecutor told TRAC on background that "he did not recall a similar 'collateral consequences' memo advising prosecutors when considering the indictment of a bank robber or car thief."
The hands-off approach by the Obama administration actually began at the end of the Bush years, when Deputy Attorney General Mark Filip told federal prosecutors in 2008 "take into account the possible substantial consequences to a corporation's employees, investors, pensioners and customers" when thinking of going after a company.
The TRAC numbers show there were 21% fewer corporate prosecutions in the five years after the Filip memo than in the five years before, Sirota wrote.
-Noel Brinkerhoff, Steve Straehley
To Learn More:
Justice Department Data Reveal 29 Percent Drop in Criminal Prosecutions of Corporations (TracReports)
Prosecution of Corporate Crime Has Plummeted Under Obama Administration (by David Sirota, International Business Times)
Lynch's Justice Dept. Opens Door to Corporate Prosecutions (by Noel Brinkerhoff, AllGov)
Prosecutions for Environmental Crimes Decline under Obama (by Steve Straehley, AllGov)
Big Corporations Accused of Crimes Usually Pay Fines while Avoiding Jail Time (by Noel Brinkerhoff and Danny Biederman, AllGov)