Lynch's Justice Dept. Opens Door to Corporate Prosecutions
Friday, September 11, 2015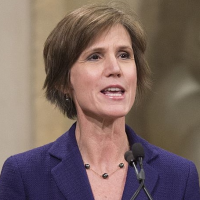 Deputy attorney general Sally Yates, author of policy memo (photo: Jim Watson, Getty Images/AFP)
In her first major policy decision since taking over the Department of Justice, Attorney General Loretta Lynch has determined it is time for prosecutors to go after corporate employees for wrongdoing instead of just collecting fines from companies.
The policy change is a marked turnaround from Lynch's predecessor, Eric Holder Jr., who was criticized during his time as AG for not convicting any Wall Street executives following the 2008 financial crisis.
Holder's Justice Department collected record-setting financial penalties against banks for breaking the law, but "punished few executives involved in the housing crisis, the financial meltdown and corporate scandals," according to The New York Times.
Going forward, U.S. attorneys have been instructed to not settle with corporations and banks unless they identify employees responsible for wrongdoing and provide evidence against them.
"Corporations can only commit crimes through flesh-and-blood people," Sally Q. Yates, deputy attorney general and author of the new policy memo, told the Times. "It's only fair that the people who are responsible for committing those crimes be held accountable. The public needs to have confidence that there is one system of justice and it applies equally regardless of whether that crime occurs on a street corner or in a boardroom."
Merely collecting fines, no matter their size, is not enough, Yates told a gathering of attorneys general in February. "Even imposing unprecedented financial penalties on the institutions whose conduct led to the financial crisis is not a substitute for holding individuals within those institutions personally accountable," she said in her speech.
Yates also said the Justice Department would not allow companies to merely scapegoat low-level officials for legal violations. "We're not going to be accepting a company's cooperation when they just offer up the vice president in charge of going to jail," she told the Times.
-Noel Brinkerhoff
To Learn More:
New Justice Dept. Rules Aimed at Prosecuting Corporate Executives (by Matt Apuzzo and Ben Protess, New York Times)
Top Bank Executive Sentenced to 8 Years in Prison for Fraud in TARP Bank Failure Case (by Noel Brinkerhoff, AllGov)
Saving and Loan Scandal of '80s and '90s: 102 High-Level Executives Convicted; 2008 Financial Crisis Scandal: 1 (by Noel Brinkerhoff, AllGov)