Promises of Bucking Wall Street and "Draining the Swamp" are broken with Trump Cabinet Choices
Thursday, December 01, 2016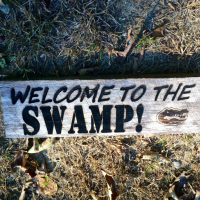 (photo: etsy.com)
By Julie Pace and Josh Boak, Associated Press
WASHINGTON (AP) — Donald Trump promised to "drain the swamp" in the nation's capital. Instead, he's diving right in.
So far, the president-elect is tapping people with deep ties to Washington and Wall Street as he fills out his Cabinet, turning to two power centers he vilified as greedy, corrupt and out of touch with Americans during his White House campaign. His choices have won praise from Republicans relieved by his more conventional choices, but could risk angering voters who rallied behind his calls for upending the political system.
Two of Trump's early picks are wealthy financial industry insiders with ties to the kinds of institutions he railed against as a candidate. Elaine Chao, his choice for transportation secretary and an accomplished political figure in her own right, is married to Senate Majority Leader Mitch McConnell — blending family and political power in a way Trump fiercely criticized campaign rival Hillary Clinton for. Jeff Sessions, Trump's selection for attorney general, has spent two decades in the Senate, and Tom Price, his health and human services nominee, is a six-term congressman.
The gap between Trump's campaign rhetoric and his governing decisions is most striking regarding his emerging economic team. On Wednesday, he announced that he planned to nominate former Goldman Sachs executive Steven Mnuchin as his Treasury secretary and billionaire investor Wilbur Ross to lead the Commerce Department.
As a candidate, Trump said Wall Street had created "tremendous problems" for the country. He included the CEO of Goldman Sachs in a television advertisement that accused global financial powers of having "robbed our working class."
Mnuchin and Ross also have financial links to Trump's White House bid, with Mnuchin having led the campaign's fundraising efforts. Trump repeatedly bragged that his personal wealth — he mostly self-funded his campaign during the primaries — meant he would not be beholden to donors who might expect their financial contributions to be repaid with powerful jobs or insider access.
"I can't be bought," Trump said during the campaign. "I won't owe anybody anything."
Trump's transition team brushed aside questions about whether there are inconsistencies between the president-elect's campaign rhetoric and his Cabinet picks.
"These are experts who know how to win," spokesman Jason Miller said Wednesday.
By picking billionaires, as well as a smattering of millionaires, for his Cabinet, Trump is asking voters to trust that privileged insiders can help a stressed and dispirited middle class — even though he, like past presidential candidates, promised he would change that dynamic. Few of his choices have outwardly displayed much of a common touch. Many live surrounded by a level of wealth that most Americans struggle to fathom — and prospered in recent decades as many Americans coped with stagnant incomes.
Not only did Mnuchin once work at Goldman Sachs, but so did his father. After leaving the investment bank in 2002, the Yale graduate pivoted into hedge fund management and producing blockbuster movies such as "Batman vs Superman: Dawn of Justice." Mnuchin invested in the wreckage of the housing crisis, scooping up the troubled bank IndyMac and turning a $1.6 billion profit in under a year as millions of Americans endured foreclosure.
Ross orbits a similar world as Trump, as both of them have luxurious homes in Manhattan and Palm Beach, Florida. The billionaire investor bought up many struggling steel, auto and coal firms in the industrial Midwest at a steep discount and sold them for steep profits, even as factory and mining jobs at the core of American identity disappeared.
Chao is the offspring of a Chinese shipping magnate, in addition to serving on the boards of Wells Fargo bank, Dole Food and News Corp., the parent of Fox News. Education Secretary Betsy DeVos, the wealthiest of Trump's Cabinet nominees thus far, married into the family that started the sales company Amway.
Trump and other Republicans spent months warning voters that a possible Clinton administration would be lined with Wall Street insiders, campaign donors and other special interest hires. But GOP officials have raised no such concerns about Trump's picks.
If anything, some Republicans appear relieved. Many of Trump's picks are cut from a more traditional Republican mold and share the party's ideological preferences, in some cases more so than Trump himself.
"The picks so far have been fantastic and well-received by Republicans and conservatives of all stripes," said Cesar Conda, the former chief of staff for Florida Sen. Marco Rubio. "Trump is unifying the party, which is essential to getting his agenda enacted."
House Speaker Paul Ryan, a lukewarm Trump supporter for much of the campaign, praised the economic picks Wednesday, saying he was "excited to get to work with this strong team."
Trump is still weighing his choices for several Cabinet posts, including secretary of state. Among the leading contenders: millionaire businessman Mitt Romney, the 2012 GOP presidential nominee, and millionaire lawyer Rudy Giuliani, the former New York City mayor.
AP writer Chad Day contributed to this report.
To Learn More:
Attorney General of the United States: Who Is Jeff Sessions? (by Matt Bewig, AllGov)
5 Trump Business Ties that Pose Conflicts for the President-Elect (by Bernard Condon, Associated Press)
With No Ethics Rules Binding U.S. Presidents, Trump Business Ventures Put Conflicts of Interest at High Risk (by Bernard Condon, Associated Press)