Problem Nurses Spur New York Lawmakers to Toughen Oversight of Licensed Professionals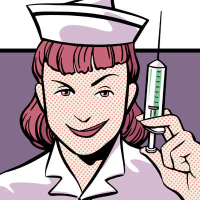 (graphic: Paul Gilligan, Getty Images)
By Jessica Huseman and Rosalind Adams, ProPublica
Spurred by concerns about problem nurses, New York lawmakers are racing to pass legislation to toughen oversight of more than 50 types of licensed professionals in the state.
Earlier this month, Senate and Assembly committees unanimously passed bills that would allow the state Education Department to suspend licenses more swiftly and compel more reporting of criminal convictions and misconduct. A ProPublica investigation published in April found New York lagged behind other states in these regards, citing examples of nurses who retained their licenses even after being charged with or convicted of violent crimes.
Still, with the legislative session scheduled to end tomorrow, the measures have little time to clear additional committee votes and floor votes in each chamber if they are to become law. Democrat Deborah Glick, who chairs the state Assembly's Higher Education Committee and introduced the Assembly bill, wouldn't say whether she expected the bill to pass within the tight timeframe.
"I never want to jinx myself," she said.
If the legislation passes, licensed professionals, who are overseen by the Education Department's Office of the Professions, would have 30 days to report any convictions more severe than a traffic violation as well as professional misconduct violations. District attorneys would also be required to report any criminal convictions to the office, which could act as a check on the self-reporting requirements.
Currently, nurses are required to disclose convictions and incidents of professional misconduct only once every three years when they renew their licenses. There are also no uniform reporting requirements for courts or district attorneys to report convictions of any licensed professionals.
Richard Gottfried, another member of the Assembly's Higher Education Committee, said in a statement that "requiring licensed professionals to report criminal or professional misconduct will help protect the public."
But Edie Brous, a lawyer who often defends nurses in professional misconduct hearings, said she was concerned that the new reporting requirements could compel professionals to disclose pending charges.
"It is becoming more and more accusatory and difficult to practice in this state," she said. "I don't have a problem with reporting requirements if we are mandating the reporting of convictions. My problem is that we are requiring providers to report accusations which have not been proven."
The bills also enhance the Office of the Professions' summary suspension powers, allowing it to immediately suspend the license of a professional when there is sufficient evidence that the public is at risk.
As of now, the office can suspend licenses in emergencies, but only if it goes through a lengthy process culminating in a full vote of the state Board of Regents. There have been only two summary suspensions of nurses in the last decade, ProPublica found.
The new measure requires special hearings on summary suspensions within 90 days.
Glick said the Assembly's Codes Committee had some concerns about due process and might change the language on summary suspensions to more closely resemble the Health Department's process for doctors and physician assistants.
While the ProPublica investigation focused on nursing, the legislation would apply to all 53 professions licensed and overseen by Office of the Professions.
Glick said the Education Department provided technical assistance in drafting the Assembly bill and is "anxious to see some changes to its authority."
The bills do not currently authorize the Office of the Professions to perform criminal background checks, leaving New York one of only 13 states as of 2014 that doesn't take this step as part of licensing nurses.
But Glick said the Codes Committee is working on adding language that would mandate background checks and fingerprinting for health professionals licensed by the Office of the Professions, including nurses, dentists and ophthalmologists.
The original Senate bill required applicants for all licenses to pay for and submit a state criminal history search as well as a fingerprint search by the FBI. This triggered protests from non-medical professionals including the New York State Society of Professional Engineers and was later stripped from the legislation to match the Assembly version of the bill.
If the Codes Committee revives background checks, but only for health professionals, the engineers society won't oppose it, said Mark Kriss, the organization's legislative and legal counsel.
To Learn More:
New York Lawmakers Race to Toughen Oversight of Nurses and Other Professionals (by Jessica Huseman and Rosalind Adams, ProPublica)
92% of Nursing Homes Employ Ex-Convicts (by Noel Brinkerhoff, AllGov)