Oklahoma Supreme Court Gives Homeowners Go-Ahead to Sue Oil Companies over Fracking Earthquakes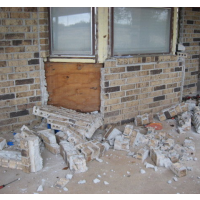 Quake damage cited in Jennifer Cooper's class action lawsuit (photo: Jennifer Cooper)
Those whose property was damaged in earthquakes caused by fracking can now sue oil companies in Oklahoma, according to the state Supreme Court.
In a 7-0 ruling, the Oklahoma Supreme Court cleared the way for two lawsuits filed against New Dominion LLC of Tulsa and Spess Oil Co. of Cleveland, Oklahoma. Both companies operate fracking wells that were blamed for numerous earthquakes in Prague, a small town east of Oklahoma City, and other areas.
The ruling allows litigation by Sandra Ladra of Prague, as well as another complaint by Jennifer L. Cooper, also of Prague, to move forward.
Ladra claims she was injured during an earthquake on the night of November 5, 2011. Cooper's case, however, is a class action involving residents from Lincoln, Payne, Logan, Oklahoma, Cleveland, Pottawatomie, Seminole, Okfuskee and Creek counties that also sustained property damage since November 2011, making the litigation worth potentially millions of dollars in damages.
Six houses were destroyed and 172 others were damaged when three quakes of 5.0 magnitude or greater struck the Prague area from November 5-8, 2011, according to the Oklahoma Emergency Management Agency.
The oil companies argued that the Oklahoma Corporation Commission should handle the lawsuits, not the courts—a position the state Supreme Court rejected.
"Allowing district courts to have jurisdiction in these types of private matters does not exercise inappropriate 'oversight and control' over the (Corporation Commission)," the court wrote. "Rather, it conforms to the long-held rule that district courts have exclusive jurisdiction over private tort actions when regulated oil and gas operations are at issue."
The Tulsa World noted that the state went "from virtually no discernible earthquakes a few years ago to more than any other state. Some scientific studies have linked high-pressure injection wells such as those operated by New Dominion and Spess to the increased seismic activity."
-Noel Brinkerhoff
To Learn More:
Oklahoma Supreme Court Clears Way for Earthquake Lawsuits against Energy Companies (by Randy Krehbiel, Tulsa World)
Oklahoma Court Rules Homeowners Can Sue Oil Companies Over Quakes (by Richard Oppel Jr., New York Times)
Oklahoma Joins Texas in Prohibiting Local Bans on Fracking (by Noel Brinkerhoff and Steve Straehley, AllGov)
Oklahoma Scientists Agreed to Keep Quiet about Fracking-Earthquake Link for 5 Years (by Danny Biederman and Noel Brinkerhoff, AllGov)
Oklahoma Earthquakes Blamed on Disposal of Fracking Waste (by Noel Brinkerhoff, AllGov)