Oklahoma Scientists Agreed to Keep Quiet about Fracking-Earthquake Link for 5 Years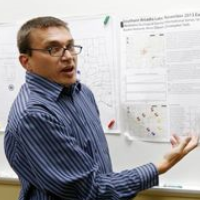 Austin Holland (photo: Sue Ogrocki, AP)
State scientists in Oklahoma have avoided for the past five years saying anything publicly about the link between the state's increase in earthquakes and the use of hydraulic fracturing to boost oil and gas production. But privately the scientists thought differently about the controversy.
After obtaining copies of government emails, EnergyWire found that Oklahoma seismologists suspected as far back as 2010 that fracking and drilling operations were the source of many of the recent earthquakes.
The emails show that the Oklahoma Geological Survey (OGS) began to agree with other scientists about such a link, and that the state's chief seismologist, Austin Holland, revealed as much to a senior U.S. Geological Survey (USGS) official five years ago.
In 2013, Holland joined USGS in issuing an official statement from the agency stating that fracking may be responsible for the increasing risk of earthquakes in Oklahoma. "Activities such as wastewater disposal" may be a "contributing factor to the increase in earthquakes," it said.
Within a week, Holland was called in to a meeting at Oklahoma Corporation Commission headquarters with the then-VP of the oil company Continental Resources, Jack Stark (currently president and COO), where displeasure was expressed about Holland's joint USGS statement. In a subsequent email to his superiors, Holland wrote that those in the meeting were "in a denial phase."
A few weeks later, Holland found himself meeting with his boss, University of Oklahoma President David Boren, and oil executives "concerned" about his and OGS's acknowledgement of a fracking-quake connection, according to EnergyWire. Those in the room included Harold Hamm, chairman of Continental Resources, who has given generously to the university.
The emails showed that, subsequent to that meeting, OSG took USGS to task for its "rush to judgment" in linking drilling waste disposal to a "remarkable" wave of earthquakes in a number of states, including Oklahoma. But Holland later confided to USGS science adviser Bill Leith that, since 2010, OSG had refrained from publicizing its belief that a series of quakes near Oklahoma City might have been caused by a nearby oil and gas operation. Officially, Holland attributed the quake surge to fluctuating lake levels.
When approached by EnergyWire about the meetings and the involvement of Boren, Hamm and other leaders, Holland insisted he wasn't pressured to alter his scientific findings or those of OGS.
"None of these conversations affect the science that we are working on producing," Holland told EnergyWire. "We have the academic freedoms necessary for university employees doing research."
The oil and gas industry carries significant weight in Oklahoma, as that industry is responsible for one out of every six jobs in the state. In disputing the claims of scientists around the country who have linked fracking and earthquakes, state politicians and industry leaders have cited the publicly professed skepticism of Holland and OGS scientists about such a link, according to EnergyWire's Mike Soraghan.
"Researchers in Oklahoma, notably Austin Holland with the Oklahoma Geological Survey, have repeatedly said the increase in seismic activity cannot be fully explained by man-made causes," Mike Terry, president of Oklahoma Independent Petroleum Association, said in 2013.
USGS, in whom Holland confided the belief of OGS scientists, has stuck to its guns. In a recent public statement it said: "This rise in seismic activity, especially in the central United States, is not the result of natural processes. Deep injection of wastewater is the primary cause of the dramatic rise in detected earthquakes and the corresponding increase in seismic hazard in the central U.S."
- Danny Biederman, Noel Brinkerhoff
To Learn More:
Okla. Agency Linked Quakes To Oil in 2010, But Kept Mum Amid Industry Pressure (by Mike Soraghan, EnergyWire)
Texas and Oklahoma Question whether Fracking Disposal Wells Cause Earthquakes (by Noel Brinkerhoff, AllGov)
Fracking Earthquake Responsibility Case Goes to Court (by Noel Brinkerhoff, AllGov)