Oklahoma Joins Texas in Prohibiting Local Bans on Fracking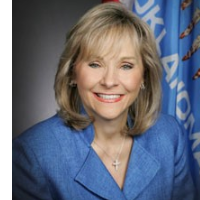 Gov. Mary Fallin (photo: Wikipedia)
Local governments in Oklahoma no longer have the power to regulate fracking within their limits because of a bill signed last week by Republican Governor Mary Fallin.
That follows similar legislation recently approved by the Republican-dominated administration in Texas. Both restrictions came at the behest of oil and gas producers, who are big contributors to GOP politicians in those states.
Now, the Oklahoma Corporation Commission, whose chairman Bob Anthony is a member of the National Petroleum Council and whose vice chairman, Dana Murphy, worked for more than 20 years as a geologist and attorney in the oil business, will rule on where fracking may take place.
Municipalities and environmental groups opposed the Oklahoma bill. "There's nothing in the bill that says cities can have the authority to protect local drinking water supplies," Norman Mayor Cindy Rosenthal told the Associated Press. Rosenthal said she's concerned about wastewater from fracking operations ending up in Lake Thunderbird, which supplies drinking water to about 200,000 people.
Geologists have linked fracking to rises in seismic activity, prompting calls for moratoriums on the process. In Oklahoma, earthquake activity was 70 times greater in 2013 than it was before 2008, according to the Associated Press.
-Noel Brinkerhoff, Steve Straehley
To Learn More:
Oklahoma Joins Texas with Law Preventing Cities, Towns from Banning Oil and Gas Operations (by Sean Murphy, Associated Press)
Fracking Bans Are No Longer Allowed In Oklahoma (by Emily Atkin, ThinkProgress)
Republican State Governments Increasingly Overruling Laws Passed by City and County Governments (by Steve Straehley and Danny Biederman, AllGov)
Oklahoma Scientists Agreed to Keep Quiet about Fracking-Earthquake Link for 5 Years (by Danny Biederman and Noel Brinkerhoff, AllGov)