Obscure Government Agency Brings Criminal Charges against 107 Bankers, but Stays Clear of Wall Street
Wednesday, December 11, 2013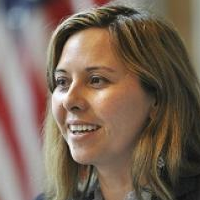 Christy Romero (photo: SIGTARP)
A little-known federal office has demonstrated that bankers have not avoided criminal prosecution altogether since the 2008 financial crisis. Experts note, however, that those thrown in jail have largely been from small institutions, leaving counterparts at Wall Street powerhouses untouched.
The Office of the Special Inspector General for the Troubled Asset Relief Program (SIGTARP) was originally created to oversee the government bailout of the auto and financial industries. But it has used its congressional authority to pursue bank executives who misused bailout funds.
To date, SIGTARP has gone after 107 senior bank officers, most of whom have been sentenced to prison, according to The Washington Post. Its work also has produced $4.7 billion in restitution paid to victims and the government.
Not bad for an agency with only 170 employees and a budget of $41 million, putting them at a disadvantage in terms of resources and manpower compared to government regulators like the Securities and Exchange Commission and the Office of the Comptroller of the Currency.
What it lacks in size it makes up for in terms of criminal authority authorized by Congress. Unlike regulators, SIGTARP can issue search warrants, seize property and even make arrests.
But those targeted by SIGTARP have run community banks, not the national institutions that dominate Wall Street.
"Essentially, we're looking for lies and greed," SIGTAR chief Christy L. Romero told the Post. "Usually, people have gone to such great lengths to try to hide the schemes that we find that they end up violating several laws, which leads to long sentences."
The average sentence given to those convicted of crimes as a result of SIGTARP investigations is five years and nine months, which is twice the length of the average sentence for white-collar crime in the U.S. SIGTAR currently has 150 ongoing criminal and civil investigations.
Mark Williams, a former bank examiner who teaches finance at Boston University, told the Post that it's been less difficult for SIGTARP to go after the small fish.
"The amount of direct evidence of banker wrongdoing in these smaller bank cases is easier to show," he said.
Williams added that SIGTARP's work nonetheless sets "an important precedence that bad banker behavior will not be tolerated and [will be] aggressively prosecuted."
-Noel Brinkerhoff
To Learn More:
SIGTARP Proves That Some Bankers Aren't Too Big to Jail (by Danielle Douglas, Washington Post)
Treasury Dept. Fails to Implement Two-Thirds of Post-Bailout Recommendations (by Noel Brinkerhoff and David Wallechinsky, AllGov)