Treasury Dept. Fails to Implement Two-Thirds of Post-Bailout Recommendations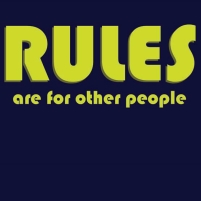 (graphic: tshirtstorm.com)
When the George W. Bush administration bailed out Wall Street four years ago, it created the Troubled Asset Relief Program (TARP) and a special inspector general (SIGTARP) to advise the
Department of the Treasury
on the rescue. It turns out, though, that Treasury officials have largely ignored what SIGTARP had to say on preventing waste, abuse and fraud involving taxpayer dollars.
According to the special inspector general's latest
report
to Congress, the Treasury Department has failed to fully implement two-thirds of SIGTARP's 96 recommendations.
In many instances, the new special inspector general, Christy Romero, and others in her office haven't been able to get an answer on why the recommendations weren't heeded.
"Treasury should explain why they are not adopting recommendations that could prevent waste, fraud, and abuse in TARP," Romero told National Journal. "Whatever their reason, it's not good enough."
One example of an ignored SIGTARP suggestion dealt with preventing potential conflicts of interest involving private fund managers hired to help invest the troubled assets of rescued banks. The special inspector general said Treasury should create a system for evaluating the effectiveness of fund managers, but the department to date has not established such a benchmark.
Most of the non-implemented recommendations deal with Home Affordable Modification Program (HAMP), which was supposed to help distressed homeowners with their mortgages. The Treasury Department has refused to disclose its goals and estimates, including how many homeowners it is intended to aid. In addition, it has ignored the recommendation that all communications with homeowners should be in writing.
Treasury has also not complied with the recommendation that it review all contracts with law firms to ensure that there have not been any "unreasonable or unallowable charges."
-Noel Brinkerhoff, David Wallechinsky
To Learn More:
Quarterly Report to Congress April 25, 2012 (Office of the Special Inspector General for the Troubled Asset Relief Program) (pages 191-205) (pdf)