Obama Will no Longer Threaten to Prosecute Families who Pay Ransom to Hostage-Takers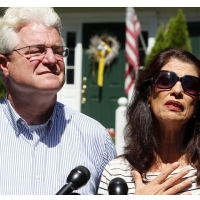 James Foley's parents were threatened with prosecution if they tried to pay ransom for their son (photo: Jim Cole, AP)
The U.S. government has long maintained an official policy that it will not negotiate with terrorists or others holding Americans hostages, a stance proven false with the trade of five Taliban detainees for Army Sgt. Bowe Bergdahl. The same policy also forbade individuals from trying to pay ransoms to get their loved ones released, and allowed officials to threaten to prosecute anyone who violated this prohibition. But that provision is now going away as part of a hostage policy overhaul being implemented by President Barack Obama.
The changes announced Wednesday also will try to make the government's policy on hostages more consistent in its application, while still clinging to the longstanding position that Washington will not negotiate with terrorists. The government had maintained this policy because of the belief that paying ransom would encourage more hostage-taking.
Most importantly for Americans who have relatives or friends being held by foreign governments or groups, the U.S. Department of Justice will not go after them for trying to win a person's freedom.
A senior administration official told The New York Times that the White House felt: "We needed to clarify that even as we have a no-concessions policy, we do not abandon families during a horrific ordeal." The official added that the threats of prosecution "should never have happened."
The Times noted that the administration has sent mixed signals on negotiating with hostage takers. It talked to the Taliban in Afghanistan to free Bergdahl but warned families of hostages held by the Islamic State and Al Qaeda that they won't negotiate for their release or allow the families to do so.
Another initiative announced Wednesday is that there will be an interagency hostage recovery "fusion cell" to coordinate such efforts. Some members of Congress would prefer a "hostage czar" to oversee all such cases. Bipartisan legislation to create such a post has been introduced in the Senate.
"We want one person who's responsible for implementing the U.S. policies and who can keep the families informed and be available to them," Sen. Benjamin Cardin (D-Maryland) told the Times. He and Texas Republican Senator John Cornyn introduced the bill.
-Noel Brinkerhoff
To Learn More:
Obama Ordering Changes in U.S. Hostage Policies (by Julie Hirschfeld Davis, New York Times)
In Reversal, Government Will Now Allow Americans To Pay Terrorists To Secure Release Of Family Members (by Justin Salhani, ThinkProgress)
15 Americans Still Held Hostage Abroad or Missing (by Steve Straehley, AllGov)