Navy Opens Criminal Investigation of SEAL who Claims to have Killed Osama bin Laden
Tuesday, January 06, 2015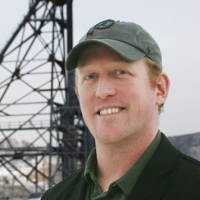 Robert O'Neill (photo Walter Hinick, AP)
Robert O'Neill, the former Navy SEAL who went public last year and claimed to have killed Osama bin Laden, is under investigation for allegedly disclosing classified information.
Navy investigators began investigating O'Neill after he told Fox News in November that he was the commando who fired the fatal shot at the al Qaeda leader. A former Senior Chief Special Warfare Operator, O'Neill was a member of SEAL Team 6 that carried out the raid on bin Laden's Pakistan hideout in 2011.
The Naval Criminal Investigative Service (NCIS) is not saying whether the alleged disclosure of government secrets is related to the 2011 mission. If the NCIS determines there is sufficient evidence against O'Neill, he could be recalled back into the service for the purpose of facing a court-martial trial.
The Daily Beast reported that "former Special Operations officials, as well as other sources who are familiar with the raid on bin Laden's compound, accused O'Neill of misstating key facts and wrongly taking credit for killing the world's then-most-wanted man."
O'Neill's taking credit for bin Laden's death has been disputed by another SEAL, Matt Bissonnette, who has said he shot the terrorist leader.
"But others say a still-unidentified man likely fired the round that caused a lethal head wound," Shane Harris wrote at The Daily Beast.
-Noel Brinkerhoff
To Learn More:
Bin Laden 'Shooter' under NCIS Investigation (by Meghann Myers, Navy Times)
Exclusive: Bin Laden 'Shooter' Under Investigation for Leaking Secrets (by Shane Harris, Daily Beast)
Pentagon Hides Files on Osama bin Laden Assassination (by Noel Brinkerhoff and Danny Biederman, AllGov)
CIA Documents Confirm that Bush Administration Ignored Repeated Warnings about Osama bin Laden Attack Plans (by Noel Brinkerhoff and David Wallechinsky, AllGov)