CIA Documents Confirm that Bush Administration Ignored Repeated Warnings about Osama bin Laden Attack Plans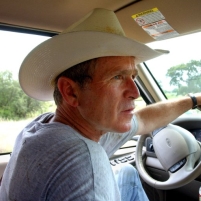 Geroge W. Bush on vacation
Seven newly released intelligence documents have revealed that the Bush administration ignored multiple warnings prior to September 11, 2001, about planned attacks by Osama bin Laden.
The declassified, but heavily censored, documents, obtained under the Freedom of Information Act by
The National Security Archive
at George Washington University, were authored by the
Central Intelligence Agency
just months, and even weeks, before the attacks on New York City and Washington, DC.
From June to August 2001, seven CIA Senior Intelligence Briefs revealed that terrorism plots were imminent. One brief produced on June 25 ("
Bin-Ladin and Associates Making Near-Term Threats
") stated that bin Laden planned "to launch multiple attacks over the coming days." Another already notorious brief issued on August 7 and titled "
Terrorism: Bin Ladin Determined To Strike in the US
," warned that "Bin Ladin was planning to exploit an operative's access to the US to mount a terrorist strike….Al-Qai'da members, including some US citizens, have resided in or travelled to the US for years, and the group apparently maintains a support structure here."
The CIA papers contradict assertions by Bush administration officials that they could not have predicted the attacks that killed thousands. In fact, President George W. Bush was on vacation for an entire month, from August 3 to September 3 and never met with CIA director George Tenet.
"I don't think the Bush administration would want to see these released, because they paint a picture of the CIA knowing something would happen before 9/11, but they didn't get the institutional support they needed," Barbara Elias-Sanborn, The National Security Archive fellow who edited the materials, told Salon.
Other documents released to the archive revealed that the CIA's program for hunting down bin Laden suffered budget shortages beginning during the administration of President Bill Clinton and was forced to rely on allies in
Afghanistan
to capture or kill him.
-Noel Brinkerhoff, David Wallechinsky
To Learn More: