Pentagon Hides Files on Osama bin Laden Assassination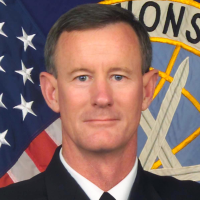 Admiral William McRaven
In violation of federal rules, the Obama administration has attempted to hide from the public documents about the Navy SEAL raid that killed Osama bin Laden.
Information about the mission was stored at the Department of Defense (DoD) until Admiral William McRaven, the top U.S. Special Operations commander, ordered the files be purged from Pentagon computers and sent to the Central Intelligence Agency (CIA), where it will be more difficult for the media and the American public to access them.
The move violates government rules regarding the archiving of official records and possibly the Freedom of Information Act (FOIA).
Transferring records from one agency to another requires approval from the National Archives and Records Administration, which did not occur, according to the Associated Press (AP).
Preston Golson, a CIA spokesman, told the news service in an email: "Documents related to the raid were handled in a manner consistent with the fact that the operation was conducted under the direction of the CIA director. Records of a CIA operation such as the (bin Laden) raid, which were created during the conduct of the operation by persons acting under the authority of the CIA Director, are CIA records."
Golson also said it was "absolutely false" that the records were moved to avoid FOIA legal requirements.
AP had requested the DoD's bin Laden assassination documents more than two years ago, submitting more than 20 separate requests. The Pentagon responded that extensive searches were unable to turn up anything, including reports, photos, videos, military equipment logs and other materials. "Secretly moving the records allowed the Pentagon to tell [AP] that it couldn't find any documents inside the Defense Department," wrote AP's Richard Lardner. "It would represent a new strategy for the U.S. government to shield even its most sensitive activities from public scrutiny."
The surreptitious transfer of the documents was discovered in a review of the Defense Department Inspector General (I.G.) draft report (pdf) that was obtained by the Project On Government Oversight. One sentence on the report's last page referenced McRaven's decision to "purg[e]…the combatant command's systems of all records related to the operation and provid[e] these records to another government agency." That sentence was removed from the report's final draft (pdf).
Thomas Blanton, director of the National Security Archive, a private research institute at George Washington University, called the transfer "ridiculous."
"Welcome to the shell game in place of open government," Blanton told the AP. "Guess which shell the records are under. If you guess the right shell, we might show them to you."
-Noel Brinkerhoff, Danny Biederman
To Learn More:
Secret Move Keeps bin Laden Records in the Shadows (by Richard Lardner, Associated Press)
Justice Dept. Fights to Keep Bin Laden Death Photos and Video Secret (by Noel Brinkerhoff, AllGov)
6 Things We Thought We Knew about the Killing of Osama bin Laden That Turned out to be Wrong (by David Wallechinsky and Noel Brinkerhoff, AllGov)