National Archives Asked to Declassify Details of Torture Program Improperly Classified by CIA
Monday, September 28, 2015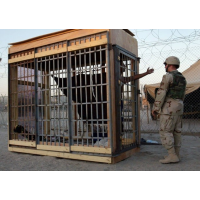 A detainee in Iraq's Abu Ghraib prison in Iraq (photo: John Moore, AP)
Details of the Central Intelligence Agency's (CIA) torture program have been unlawfully kept from public view, according to a complaint filed with the National Archives.
OpenTheGovernment.org listed in a complaint (pdf) five areas of concern that have been classified or redacted from the version of the Senate's torture report executive summary, released in December 2014.
"Secrecy regarding 'black sites' and torture has played a major role in ensuring that no CIA personnel could be prosecuted for torture, war crimes, destruction of evidence, or other relevant federal crimes. It has ensured that civil courts were closed to victims of torture, indefinitely delayed trials of the accused perpetrators of the September 11 attacks, and put the United States in breach of its obligations under the Convention Against Torture," according to the complaint, signed by OpenTheGovernment national security fellow Katherine Hawkins.
The five areas of concern are:
--The pseudonyms and titles, and in some cases the names, of CIA officials and contractors implicated in the torture program. Some of those redacted names included those of lawyers involved in crafting the agency's torture policy.
--The names of countries that hosted torture sites, even though some of those countries' governments have acknowledged this and even paid compensation to those tortured.
--Detainees' description of their own torture. Details about torture sites, dates of transfer between prisons and descriptions of those inflicting the torture have been kept secret.
--Details of the CIA's torturing of detainees in Iraq. Information about this torture, including the death of a detainee, has been reported by the news media.
--The seizure and transfer of detainees to foreign countries to facilitate torture. Syria, Libya, Egypt, and Jordan were among the places that hosted torture facilities.
"The Executive Order on national security classification formally forbids agencies from classifying information, or failing to declassify information, in order to 'conceal violations of law,' 'prevent embarrassment,' or 'prevent or delay the release of information that does not require protection.' It also forbids classification of any information unless 'the information is owned by, produced by or for, or is under the control of the United States government,'" Hawkins wrote.
-Steve Straehley
To Learn More:
OpenTheGovernment.org Challenges Ongoing Classification of the CIA Torture Program (OpenTheGovernment.org)
Wrongful Classification of Information Regarding CIA torture, in Violation of Executive Order 13526 (Katherine Hawkins, OpenTheGovernment.org) (pdf)
CIA Refuses for Fifth Time to Help Poland's Investigation of Torture Carried Out by…CIA (by Noel Brinkerhoff and Steve Straehley, AllGov)
New Republican Senate Intelligence Chairman Wants to Bury CIA Torture Reports (by Noel Brinkerhoff and Steve Straehley, AllGov)