CIA Refuses for Fifth Time to Help Poland's Investigation of Torture Carried Out by…CIA
Thursday, September 24, 2015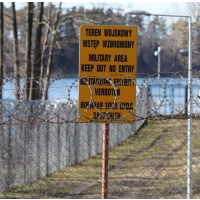 Outside of secret CIA prison in Poland (photo: Stare Kiejkuty, Google Images)
The government of Poland believes that if at first you don't succeed, try, try, try, try again.
But it still may not work.
Polish prosecutors have repeatedly—five times—attempted to get information out of the Obama administration about the torture of detainees by the Central Intelligence Agency (CIA) in Poland during the war on terror launched by President George W. Bush. Each time the Department of Justice has denied the requests from the Appellate Prosecutor's Office in Kraków.
"Four successive requests for legal assistance" have been declined by American officials, according to Radio Poland. "Altogether, five separate refusals have been made, and one matter is still being reviewed by American authorities." The inquiries relate to the use of a Polish intelligence base from 2002 to 2003 to question terrorism suspects, using so-called enhanced interrogation techniques—or to put it another way, torture.
The U.S. rejected all of the requests by "relying on an annex in the Polish-U.S. agreement on legal assistance, according to which such assistance may be refused if reasons of national security are cited," Piotr Kosmaty, spokesman for the Appellate Prosecutor's Office in Kraków, said.
One request was for an unedited copy of the U.S. Senate report on CIA torture. A redacted summary of the report indicated torture had been carried out at CIA prisons in Europe, including Poland, although explicit references to specific countries were not released.
Poland's former president, Aleksander Kwaśniewski, publicly admitted his country was asked to provide a "quiet location" for questioning suspects following the September 11 attacks. But Kwaśniewski claimed no authorization was given for the harsh treatment of detainees.
Poland has paid damages to two detainees who were questioned at the Stare Kiejkuty intelligence base. Abu Zubaydah was awarded 130,000 euros (about $147,000) and Abd al-Rahim al-Nashiri 100,000 euros (about $113,000). Al-Nashiri has been accused in connection with the October 12, 2000 attack on the USS Cole in which 17 sailors were killed and is being held in Guantánamo, as is Zubaydah, who has been in U.S. custody since March 2002, but has not been charged with a crime.
-Noel Brinkerhoff, Steve Straehley
To Learn More:
U.S. Refuses To Cooperate with Poland in CIA Prisons Probe (Radio Poland)
Polish Government Agrees to Pay Victims of CIA Torture (by Steve Straehley, AllGov)
Poland Feels Sting of Betrayal over CIA 'Black Site' (by Carol Williams, Los Angeles Times)
Kwasniewski: Poland Cooperated with U.S. on CIA Sites (Radio Poland)
CIA Paid $15 Million Cash to Create a Torture Prison in Poland (by Noel Brinkerhoff, AllGov)