NAACP Wins Court Victory over Philadelphia Airport Regarding Ad about Prisoners
Thursday, August 14, 2014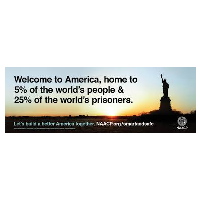 The city of Philadelphia was wrong to reject a social-message advertisement for its airport, a federal judge has ruled in a case brought by the National Association for the Advancement of Colored People (NAACP).
U.S. District Judge Cynthia Rufe found in favor of the NAACP, which tried in 2011 to post an ad about the nation's crowded prison system at Philadelphia International Airport and other airports.
The billboard read: "Welcome to America, home to 5% of the world's people [and] 25% of the world's prisoners. . . . Let's build a better America together,"
But Philadelphia airport officials rejected the ad, claiming their policy allowed only advertisements with commercial appeal. The NAACP countered that its First and Fourteenth Amendments rights were violated by the decision. Rufe agreed with the plaintiffs.
However, the airport had already displayed ads by other non-profits, including the World Wildlife Federation and the National Parent-Teacher Association.
"The NAACP has pointed to considerable evidence that supports the conclusion that to display non-commercial ads, like the NAACP's, would be perfectly compatible with a multipurpose terminal containing many adult-oriented potentially controversial media," the judge wrote. "By contrast, the city has failed to demonstrate why allowing non-commercial advertisements would diminish advertising revenue, diminish the airport's efficacy, or make the airport a meaningfully less positive, family oriented place than permitting commercial and city-sponsored advertisements only."
-Noel Brinkerhoff
To Learn More:
Philly Shouldn't Have Refused NAACP Airport Ad, Judge Says (by Kelly Knaub, Law 360)
Airport Advertising Spat Ends in Win for NAACP (by Rose Bouboushian, Courthouse News Service)
NAACP v. City of Philadelphia (U.S. District Court, Eastern Pennsylvania) (pdf)
Does the U.S. Really Need So Many Prisoners? (by Noel Brinkerhoff, AllGov)
Non-White Prisoners are more Profitable for Private Prisons (by Noel Brinkerhoff, AllGov)
Federal Prison Population Multiplies 10 Times in 30 Years (by Matt Bewig, AllGov)