Does the U.S. Really Need So Many Prisoners?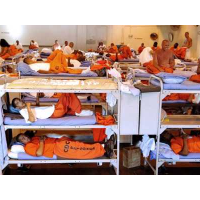 (photo: AP, California Department of Corrections)
A leading government research panel says it is time for the United States to take a serious look at its decades-long habit of imprisoning so many of its people.
The report from the National Research Council found the skyrocketing increase in the number of prisoners held throughout the country is doing more harm than good for society, making it imperative for policymakers to reconsider the tough-on-crime laws that led to this development.
"We are concerned that the United States is past the point where the number of people in prison can be justified by social benefits," Jeremy Travis, the research panel's chairman and president of John Jay College of Criminal Justice in New York City, said. "We need to embark on a national conversation to rethink the role of prison in society. A criminal justice system that makes less use of incarceration can better achieve its aims than a harsher, more punitive system. There are common-sense, practical steps we can take to move in this direction."
Travis and his colleagues said the U.S. has been "internationally unique" in locking up significant numbers of its citizens over the past four decades. The U.S. prison population (including state and federal) soared from 200,000 inmates in 1973 to 1.5 million by 2009.
With 2.2 million adults currently behind bars, the U.S. not only has by far the world's largest prison population, but it also accounts for 25% of all people incarcerated on the planet—even though it has only 5% of its population.
Other startling statistics from the report:
· Nearly 1 out of every 100 American adults is behind bars—a rate that's five to 10 times higher than rates in Western Europe and other democracies.
· About 60% of all prisoners were black or Hispanic (as of 2011).
· Black men under age 35 who don't graduate from high school are more likely to get arrested than to get a job.
The report suggested that lawmakers in statehouses and Congress revisit mandatory sentencing laws that helped fuel the surge in prison populations. They noted that such laws targeting drug offenders have done little to stem the nation's drug problem, while resulting in a tenfold increase in the incarceration rate for drug offenses from 1980 to 2010 — a rate twice that of other crimes.
The cost of corrections has outpaced budget increases for almost every other major government service, states the report. Only spending on Medicaid and education is higher than state spending on incarcerations.
-Noel Brinkerhoff
To Learn More:
U.S. Should Significantly Reduce Rate of Incarceration; Unprecedented Rise in Prison Population 'Not Serving the Country Well,' Says New Report (National Research Council)
Choice: Cut Prison Population, Or Accept New Normal (by Ted Gest, The Crime Report)
The Growth of Incarceration in the United States: Exploring Causes and Consequences (National Research Council)
Non-White Prisoners are more Profitable for Private Prisons (by Noel Brinkerhoff, AllGov)
Too Many Prisoners in Oklahoma and Ohio (by Noel Brinkerhoff, AllGov)
Bureau of Prisons Fights against Early Release of Dying or Incapacitated Prisoners (by Noel Brinkerhoff, AllGov)