Middle East Sensibilities Rocked by "Selfies"
Wednesday, January 21, 2015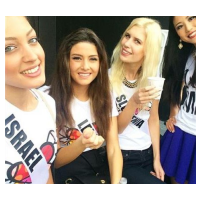 (photo: Doron Matalon, Instagram)
From Lebanon to Iran, selfies are causing uproar in the Middle East, where the use of social media is conflicting with religious dogma and longstanding political rifts.
The Miss Universe pageant got a little political when Miss Israel, Doron Matalon, posted a selfie on Instagram with several other contestants, including Miss Lebanon, Saly Greige.
Having Miss Israel next to Miss Lebanon was a big deal because the two countries have no diplomatic relations, going back to 1948 when Israel was created. Some in Lebanon were so upset by the photo that they demanded Greige lose her title for being publicly seen "with the citizen of an enemy state," according to The Daily Star.
But Greige claimed Miss Israel photobombed the selfie. "Since the first day of my arrival to participate to Miss Universe, I was very cautious to avoid being in any photo or communication with Miss Israel," Greige wrote in English on her Facebook page. But Miss Israel was kind of pushy, she alleged. "I was having a photo with Miss Japan, Miss Slovenia and myself, suddenly Miss Israel jumped in, took a selfie, and put it on her social media," Griege wrote.
Appearing in a selfie with the "wrong" people also has made news in Iran, where the cultural police have ordered Iranian soccer players to avoid photos with overseas female fans during the Asian Cup, which is being played in Australia. The Iranian Football Federation's moral committee said players cannot be in selfies with women fans, lest they risk being used as a "political tool." The series has drawn many Iranian fans, both men and women, who are enthusiastically rooting on their club.
Such photos are controversial in Iran because the government forbids women from attending men's soccer games.
-Noel Brinkerhoff
To Learn More:
Miss Israel and Miss Lebanon Appear in a Selfie, Sparking a New Mideast Conflict (by William Booth, Washington Post)
Iranian Sports Stars Warned Not to Take 'Selfies' with Women — Even Overseas (by Scott Bradley, Agency France-Presse)
Snap! Hajj Selfies Gain Popularity, Spark Controversy (by Lynne al-Nahhas, Agence France-Presse)
'Selfies' frowned upon, but Technology is Transforming the Hajj (by Carol J. Williams, Los Angeles Times)
Miss Lebanon's Selfie with Miss Israel Sparks Uproar (The Lebanon Daily Star)
Gaddafi Collected Photos of Condoleezza Rice (by Noel Brinkerhoff and David Wallechinsky, AllGov)