Mental Health Latest Casualty of Flint Water Poisoning Crisis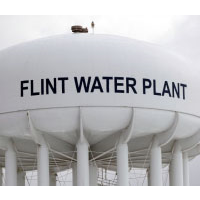 Credit: Bill Pugliano / Getty Images
Abby Goodnough and Scott Atkinson, © 2016 New York Times News Service
FLINT, Mich. — Health care workers are scrambling to help the people here cope with what many fear will be chronic consequences of the city's water contamination crisis: profound stress, worry, depression and guilt.
Uncertainty about their own health and the health of their children, the open-ended nature of the crisis, and raw anger over government's role in both causing the lead contamination and trying to remedy it, are all taking their toll on Flint's residents.
"The first thing I noticed when I got to Flint, quite honestly, was the level of fear and anxiety and distress," said Dr. Nicole Lurie, an assistant secretary at the Department of Health and Human Services who has been coordinating the federal recovery effort here since January. On Wednesday, President Barack Obama will pay his first visit to the city since the lead contamination was revealed.
A team of behavioral health specialists from the U.S. Public Health Service began addressing the mental health problem in February by providing "psychological first aid" training for people interested in helping others cope with the water emergency.
Genesee Health System, a local mental health agency, also created the Flint Community Resilience Group, whose members are focusing on the long-term psychological consequences of the water crisis and how to address them.
With a $500,000 emergency grant from the state, the group is offering free crisis counseling at churches and the public library and has held two community meetings on stress management. Social workers and social work students from around the state are helping with the counseling on a volunteer basis.
Diane Breckenridge, Genesee Health's liaison to local hospitals, said she had seen "people come into the hospitals directly related to breakdowns, nervous breakdowns, if you will."
"Most of it's been depression or suicidal ideation directly linked to what's going on with their children," she added. "They just feel like they can't even let their children take a bath."
Danis Russell, the chief executive of Genesee Health System, said that while the potential for stigma had kept many here from seeking mental health services in the past, the water crisis might make them more willing.
"Now there's an acceptable reason," he said. "People may say: 'This isn't my fault. Somebody did this to us and everybody's getting help, so I should, too.'"
Bob and Johanna Atwood Brown thought they were doing everything right.
When reports of lead in the water supply surfaced last summer, they installed a filter on their faucet, which removes lead up to 150 parts per billion. They used bottled water for drinking, but relied on their filtered tap water for cooking, coffee or to make their 10-year-old son and his friends Kool-Aid on hot summer days.
But when they had their water tested in January, they learned that it contained lead at 200 parts per billion — more than their filter was designed to handle, and far more than the federal safety threshold of 15 parts per billion.
Johanna Brown said she was haunted by thoughts of her son and his friends drinking the lemonade and Kool-Aid she had made them.
"The guilt is unreal," she said. "I poisoned other people's children."
Bob Brown said he felt as if he had failed as a father and protector of his family.
"You beat yourself up," he said. "Why didn't we do something earlier? Why didn't we test earlier?"
Their son received a diagnosis of bipolar disorder and attention deficit disorder before the water crisis, and the Browns said they feared that the lead could exacerbate those problems — or produce others.
He "has special needs as it is, so it's hard to tell if there's a behavioral component," Johanna Brown said. "Things are not clear."
She added: "Are we going to get cancer from this? I'm terrified."
As an outlet, Johanna Brown has started a blog and uses Facebook. She was already seeing a therapist, she said, but now the stress and guilt associated with her home's water contamination dominate her sessions.
Bob Brown said he did not talk about it much, but as the associate director in Flint for Michigan State University's Center for Economic and Community Development, he finds it therapeutic to share his story when he speaks at events and meetings.
"It never leaves you," Bob Brown said.
Maelores Collins blames the water for a problem that deeply troubles her: Her hair has broken off over the past six months.
Her self-prescribed therapy consists of cruising the aisles of Wal-Mart or playing bid whist, a card game, with friends. A few months ago, her doctor also prescribed Xanax, a tranquilizer, which she takes "to get up" in the morning, she said.
"I'm depressed, I'm angry, my anxiety is running high," said Collins, a former construction worker who has asthma and is on permanent disability.
Worse off, she said, is her 12-year-old grandson, who refuses to drink even bottled water and will eat only off paper plates. The family jumped several hurdles to secure a psychiatric appointment for him in early May.
"He's freaking out — he's like, 'We're all going to die from the water,'" Collins said. "I said, 'You're young, you ain't going nowhere.' But I can't convince this boy."
Collins called the situation "crazy."
"This thing," she said, "will never be over."
To Learn More:
Gov. Rick Snyder's Top Officials Knew of Flint Water Link to Disease Surge 10 Months before Snyder Told Public (by David Eggert and Ed White, Associated Press)
Flint Official Warned Against Water Switch (by John Flesher, AP Environmental Writer)