Flint Official Warned Against Water Switch
Sunday, February 14, 2016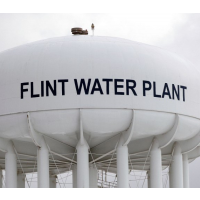 Credit: Bill Pugliano/Getty Images
By John Flesher, AP Environmental Writer
As the city of Flint, Michigan, prepared to begin drawing its drinking water from the Flint River, an official with the municipal water plant said his superiors were prodding him to move too quickly, an email released by the governor's office Friday shows.
"If water is distributed from this plant in the next couple weeks, it will be against my direction," Mike Glasgow wrote to officials with the state Department of Environmental Quality (DEQ) on April 17, 2014, when he was the plant's laboratory and water quality supervisor. He is now the city utilities administrator.
"I need time to adequately train additional staff and to update our monitoring plans before I will feel we are ready," he wrote. "I will reiterate this to management above me, but they seem to have their own agenda."
The city made the switch to the Flint River eight days later, marking the occasion with a ceremony April 25. Flint had long relied on treated Lake Huron water from Detroit's system, but turned to the river as a temporary measure to save money when the city was under emergency financial management. Officials planned eventually to get Lake Huron water from a new pipeline.
Flint did not use an anti-corrosion chemical treatment as Detroit had done, which officials acknowledge was a drastic failure that enabled the corrosive river water to scrape lead from aging pipes and taint water that reached some homes. Even before the lead problem was discovered, residents complained repeatedly that their water had become smelly, bad-tasting and discolored.
Gov. Rick Snyder's office, accused by critics of mishandling and downplaying the crisis for months, released about 20,000 related emails and records Friday in response to open-records requests. The emails came from several state departments, including Environmental Quality; Technology, Management and Budget; Health and Human Services; Agriculture and Rural Development; and Treasury.
Among them were two messages to DEQ officials from Glasgow saying he was under pressure to get the Flint River flow going. He did not return messages from The Associated Press seeking comment.
On April 16, 2014, Glasgow asked Adam Rosenthal of DEQ's Office of Drinking Water and Municipal Assistance about changes in water quality monitoring and testing procedures that might be required because of the switchover.
"Any information would be greatly appreciated, because it looks as if we will be starting the plant up tomorrow and are being pushed to start distributing water as soon as possible," Glasgow wrote.
Rosenthal responded by sending an updated schedule for the city. The next day, Glasgow wrote that in view of the monitoring requirements and his available staffing, "I do not anticipate giving the OK to begin sending water out anytime soon."
Rosenthal and DEQ official Mike Prysby, who also received Glasgow's emails, did not return messages seeking comment.
Glasgow wasn't the only person with complaints about the fast pace as Flint's switchover approached.
In an email sent March 18, 2014, Michigan Treasury Department official Eric Cline recommended approval of a $676,000 contract for an upgrade to Flint's water plant. There was no other bid, he said, which ordinarily would raise concerns. But he noted the city had "a very aggressive timeline in order to meet an April completion date before losing service" from the Detroit Water and Sewerage Department.
In a March 13 memo prepared by water plant supervisor Brent Wright, the city asked that its request be expedited to meet the "aggressive timeline." The request was made by an assistant to then-emergency manager Darnell Earley and then-Mayor Dayne Walling.
Associated Press reporters David Eggert in Lansing; Carla K. Johnson, Tammy Webber and Don Babwin in Chicago; and David Mercer in Champaign, Illinois, contributed to this report.
To Learn More:
Gov. Rick Snyder's Top Officials Knew of Flint Water Link to Disease Surge 10 Months before Snyder Told Public (by David Eggert and Ed White, Associated Press)
Top EPA Official Resigns over Muted Response to Flint Water Contamination (by Timothy Gardner and Fiona Ortiz, Reuters)