Legal Residents Claim They are Punished for Living Near Mexican Border
Thursday, January 23, 2014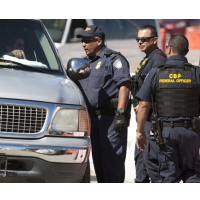 (photo: David Wallace, Arizona Republic)
A leading civil rights group has accused Border Patrol agents of abusing the constitutional rights of U.S. citizens and legal residents living in southern Arizona.
The American Civil Liberties Union (ACLU) is demanding a government investigation of those guarding the border with Mexico.
"Border Patrol checkpoints today bear little resemblance to those authorized by the Supreme Court. Many Border Patrol officials do not understand—or simply ignore—the legal limits of their authority at checkpoints," James Lyall, an attorney with the ACLU of Arizona, said in an administrative complaint (pdf) sent to the Department of Homeland Security's (DHS) Office of Inspector General and Office of Civil Rights and Civil Liberties.
The ACLU also forwarded its complaint to Arizona's congressional representatives, the U.S. Department of Justice and Customs and Border Protection (CBP).
At least 15 American citizens have been subjected to unlawful acts by Border Patrol agents at checkpoints in Arizona, the ACLU claims.
"Residents often experience extended interrogation and detention not related to establishing citizenship, unwarranted searches, racial profiling, verbal harassment, and physical assault, among other abuses," the letter said.
In one instance, a Border Patrol agent drew his gun at a driver, pulled him from his car and handcuffed him for 45 minutes after the individual declined to answer questions unrelated to citizenship.
Another incident saw Border Patrol agents order a driver and passenger from their vehicle, and place them in wire cages while their car was searched—and all because a service dog detected something in another car.
A third case involved a mother of twin six-year-old children being threatened and assaulted by agents for lawfully attempting to record a search of her vehicle following a false canine alert.
All of the aforementioned individuals, as well as others mentioned in the ACLU complaint, were released and never charged with violating immigration or other laws. The ACLU wants the incidents it documented to be investigated.
The group previously filed two other complaints (in April 2012 and October 2013) alleging abuses by Border Patrol agents. To date, it has not received a response from the government about them.
"The ACLU believes the lack of response to widespread civil rights abuses by the nation's largest federal law enforcement agency is symptomatic of broader oversight failures within CBP and DHS," it said in a press release.
-Noel Brinkerhoff
To Learn More:
Border Patrol Checkpoints in Southern Arizona Violate the Constitutional Rights of Border Residents, ACLU of Arizona Demands Investigation (American Civil Liberties Union of Arizona)
Complaint and Request for Investigation of Abuses at U.S. Border Patrol Interior Checkpoints in Southern Arizona, including Unlawful Search and Seizure, Excessive Force, and Racial Profiling (American Civil Liberties Union of Arizona and American Civil Liberties Union Border Litigation Project) (pdf)
Federal Judge Rules that Border Patrol Does Not Need Reasonable Suspicion to Confiscate Laptops and Phones (by Noel Brinkerhoff, AllGov)
10 Lawsuits Filed against Border Patrol for Abuse (by Matt Bewig, AllGov)