Lawsuit Accuses Obama Administration of Endangering Gulf of Mexico Fish by Allowing Industrial Fish Farming in Federal Waters
Friday, February 19, 2016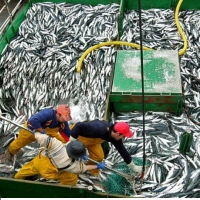 (photo: Periódico El Ciudadano)
By Sabrina Canfield, Courthouse News Service
NEW ORLEANS (CN) - Industrial offshore fish farming approved last month for federal waters in the Gulf of Mexico is a threat to native and endangered species, the ecosystem, and even the fish we eat, according to a federal lawsuit.
The National Oceanic and Atmospheric Administration's decision to open the Gulf up for harmful fish farming, or aquaculture, was based the "culmination of an extended rulemaking and convoluted procedural history that began about twelve years ago," the Center for Food Safety, Gulf Restoration Network and a dozen other green groups say in federal court.
They say aquaculture will threaten Gulf fish and the health of the environment.
Finalized in January 2016, the new aquaculture regulations will allow up to 20 industrial facilities and collectively 64 million pounds of fish to be produced each year in giant net cages in the Gulf of Mexico.
This is the same amount of wild fish currently caught from the Gulf of Mexico annually other than menhaden, a fish used mainly in pharmaceuticals, and pet and fish feed, not for direct human consumption, so farmed fish would essentially double offerings and flood the market, plaintiffs say.
As recently as 2009, the Environmental Protection Agency issued a cautious review of defendants' plan to open offshore aquaculture, saying it had received critical comments from over 100 different groups who expressed concerns about potential harmful environmental effects.
But in the end, after Congress did not approve the farming proposal.
The led the defendants to begin an end-run around Congress by creating a permitting scheme through the regional Gulf Council by overextending the Council's authority to manage "fishing," under the Magnuson-Stevens Conservation and Management Act which governs the management of marine fisheries in federal waters, the lawsuit says.
The Gulf Council in turn passed governance of the overextended regulation along to NOAA.
The Gulf Council's sole interest in pushing for fish farming in the Gulf was that one of its members, Joseph Hendrix, was an agricultural entrepreneur and saw fish farming as a way to make some money and made fish farming his priority at the Gulf Council, the lawsuit said.
In an effort to push offshore aquaculture forward without a new law permitting it, NOAA exceeded its authority to regulate fishing under the Magnuson-Stevens Act and is now ready to permit offshore aquaculture as a "fishing" activity, which it is not, plaintiffs say.
Industrial aquaculture in open waters is associated with many serious environmental and health concerns, including the escape of farmed fish into the wild, outcompeting wild fish for habitat, food and mates or intermixing with wild fish and altering their genetics and behaviors; the spread of diseases and parasites from farmed fish to wild fish and other marine life; and pollution from excess feed, wastes and any antibiotics or other chemicals used flowing through the open pens into natural waters.
Also, high levels of fertilizers used to keep the farmed fish thriving will runoff into the Gulf waters and create hypoxia, or a lack of oxygen, which will in turn create "dead zones."
It is well understood that millions of fish escape from fish farms per year, the lawsuit says. In the past two decades more than 24 million fish have escaped from their farms worldwide. Escaped fish threaten already-depleted wild fish populations in the open ocean environment by competing for food and habitat, spreading disease and interbreeding, causing genetic pollution in wild fish.
Studies have shown that when farmed and wild fish interbreed their offspring have diminished survival skills, reduced fitness, and potentially altered characteristics such as changes in the timing of critical development factors, the lawsuit says.
Also, farmed fish are far less nutritious than wild-caught fish, negating the benefit of eating fish.
Marianne Cufone, an environmental attorney and executive director of the Recirculating Farms Coalition, a plaintiff in the lawsuit, said in a statement online, "It is unbelievable that the very agencies tasked with conservation and management of our ocean resources and fisheries would push offshore aquaculture; it is totally outdated and unnecessary. Recirculating farms that are on-land recycle water and waste in a closed system, they are a more sustainable way to increase domestic seafood, and they don't conflict with fishing communities, or harm the environment."
"Offshore industrial aquaculture will cause irreparable harm to the Gulf ecosystems and coastal communities," said George Kimbrell, senior attorney for CFS and counsel for the plaintiffs. "We need to better manage and protect our native fisheries, not adopt destructive industrial food practices that put them at risk. This lawsuit, brought by a range of concerned stakeholders, aims to halt these shortsighted plans."
Cynthia Sarthou, attorney and executive director of the Gulf Restoration Network said in a statement, "The Gulf of Mexico is already struggling to deal with a large dead zone, run-off pollution, recovery from the 2010 oil spill and massive wetlands loss. Adding industrial aquaculture is foolish and irresponsible."
In addition to ecological and public health risks, industrial aquaculture can also come with significant socioeconomic costs, the lawsuit says.
Large aquaculture structures often attract wild fish away from their usual habitats; "buffer" zones prevent fishing near the farm facilities, so fishermen lose access to the displaced fish. Offshore aquaculture also creates market competition that drives down the price of wild fish, and results in the loss of fishing and fishing-related employment and income.
The Center for Food Safety filed the federal lawsuit on behalf of the Gulf Fishermen's Association, Gulf Restoration Network, Charter Fishermen's Association, Florida Wildlife Federation, Gulf of Mexico Reef Fish Shareholder's Alliance, Destin Charter Boat Association, Clearwater Marine Association, Alabama Charter Fishing Association, Fish for America USA Inc., Florida Wildlife Federation, Recirculating Farms Coalition and the Center for Food Safety.
Plaintiffs seek an injunction to prevent defendants' permits from taking effect.
Named defendants are National Marine Fisheries Service, Eileen Sobeck, in her official capacity as Assistant Administrator for Fisheries, Dr. Roy Crabtree, in his official capacity as Regional Administrator, Southeast Region, National Oceanic and Atmospheric Administration, Dr. Kathryn Sullivan, in her official capacity as Under Secretary of Commerce for Oceans and Atmosphere and Administrator for National Oceanic and Atmospheric Administration, and Penny Pritzker, in her official capacity as United States Secretary of Commerce.
The lawsuit was filed by Marianne Cufone of Recirculating Farms Coalition in New Orleans.
A spokesperson for the defendants declined comment citing the pending nature of the litigation.
To Learn More:
Rampant "Ocean Grabbing" by Major Powers Threatens Food Security for Developing Nations, Says UN Report (by Noel Brinkerhoff, AllGov)
Plundering Pacific Ocean Fish for Short-Term Profits (by David Wallechinsky and Noel Brinkerhoff, AllGov)
Commerce Dept. Forbids Biologists from Releasing Data Regarding Gulf Dolphin Deaths (by Noel Brinkerhoff, AllGov)