Plundering Pacific Ocean Fish for Short-Term Profits
Saturday, February 04, 2012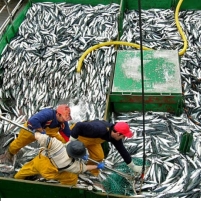 (photo: Periódico El Ciudadano
The protein-rich jack mackerel is a fish in high demand, which has led to overfishing by multiple countries and risks of the species disappearing.
Over a period of 20 years, the stocks of jack mackerel have dropped from about 30 million metric tons to less than 3 million. In just the last five years alone, the fish's stocks plummeted 63%, according to scientists.
One of the problems is the system the organization chose to allocate annual quotas for each country; the total tonnage of vessels sent to the region from 2007 to 2009. This led to the watery equivalent of a land rush. Some of the approximately 75 vessels that descended on the area were "supertrawlers" that gathered up jack mackerel in nets that measure of up to 25 meters by 80 meters.
In many cases, the fishing vessels received major government subsidies to pay for fuel or upgrade equipment. This has been particularly true in China, Russia and the Netherlands.
-David Wallechinsky, Noel Brinkerhoff
To Learn More:
'Free-For-All' Decimates Fish Stocks in the Southern Pacific (by Mort Rosenblum and Mar Cabra, iWatch News)