Known for Sense of Humor, Guantánamo Detainee Makes Serious Pitch for Release after 8 Years without Charges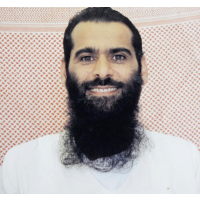 Muhammad Rahim (photo: International Red Cross via Rahim Family)
By Britain Eakin, Courthouse News Service
WASHINGTON (CN) — The last prisoner sent to Guantánamo, who has a sharp comedic bent, appeared before the parole board with a new attorney on Thursday to ask for release.
The CIA interrogated Afghan national Muhammad Rahim, a suspected al-Qaida leader, in Pakistan regarding his knowledge of Osama bin Laden's whereabouts before sending him to the prison in March, 2008.
Rahim is among the high-value detainees still held at Guantánamo, but the United States has never charged him with a crime.
The CIA did, however, torture him at one of their secret black sites, including a sleep deprivation session that lasted 138 hours. He was shackled standing to a wall, wearing only shorts and a diaper.
But that doesn't seem to have dampened his sense of humor.
In 2015, Al Jazeera America released some handwritten letters he wrote to his former attorney, Carlos Warner.
The letters included advice to former Olympian-turned reality TV star Caitlyn Jenner — whom he expressed sympathy for — to use spray tan on her legs. Another quoted a line from the 1980s hair-metal band Poison song, "Every Rose Has its Thorn."
Rahim invoked the song to express the lingering sting of NBA basketball star LeBron James' departure from the Cleveland Cavaliers to play for the Miami Heat for two years.
"It is good to hear about LeBron coming home," Rahim wrote about the star's return to Cleveland. "But I feel this way. As the great Brett Michaels once said, 'Although the wound heals the scar remains,'" he wrote, misquoting the song.
Rahim also mocked the Ashley Madison hack scandal, asking Warner to remove his profile right away.
"I'll stick with Match.com even though you say it is for old people. There is no way I can do Tinder in here," he wrote.
The United States claims Rahim had close ties with Osama bin Laden.
"He served as a translator, courier, facilitator, and operative for the group's senior leadership, including Usama Bin Ladin," his unclassified profile states, using a different spelling of bin Laden's name.
His advanced language skills, including Arabic, made him a valuable asset for communicating with fighters and facilitating their cross-border movement between Pakistan and Afghanistan, the government says.
The government also claims Rahim had advanced knowledge of major al-Qaida attacks, including 9/11.
He then "progressed to paying for, planning, and participating in attacks in Afghanistan against U.S. and coalition targets by al-Qaida, the Taliban, and other anti-coalition militant groups," according to his profile, which an anonymous female voice read during the hearing shown at the Pentagon in a closed-circuit feed.
Despite his general compliance, his profile describes him as uncooperative and defiant, and claims he has become more deeply committed to extremism during his detention.
"AF-10029 views his time in detention as a continuation of jihad. He claims the guard staff and the detainees' lawyers are enemies, and has reprimanded fellow detainees for showing the slightest courtesy toward them. He has sought to intimidate and taunt his captors even if it means never being released and dying as a martyr, which he appears to welcome," the female voice said, using Rahim's internment serial number.
Walter Ruiz, one of the defense attorneys for suspected 9/11 plotter Mustafa al-Hawsawi, appeared at the table with Rahim during the hearing but did not offer an unclassified statement.
However, two personal representatives offered a short statement to the Periodic Review Board on his behalf. They said Rahim regrets his past actions and only did what he did to support his wife and seven children, a claim the government put forth as well.
"Rahim has spoken of wanting a peaceful life in the future. Rahim has stated in our meetings he has never had any ill will towards the U.S. and this will continue in the future," one of the representatives said.
The government claims, however, that Rahim has said he wants to return to jihad and kill Americans.
For now, Rahim's letters provide the only glimpse into his thinking.
"I am innocent and I was tortured — hung from the ceiling until I was dead. I am not high value they call me high value because the CIA tortured me. How do we undo this injustice? Give me a trial, let me be free. I am not your enemy and I never have been. I asked for U.S. custody because I believed that the U.S. was a country of laws and justice. I thought the ISI would kill me," he wrote, using the abbreviation for the Pakistani Inter-Services Intelligence agency.
"I thought I could prove my innocence in the U.S. I was wrong," he added.
The Periodic Review Board has cleared 33 of the remaining 76 detainees for transfer to nations that will take them with appropriate security clearances. The board should issue its ruling on Rahim within the next two months.
To Learn More:
"Mental Torture" Used against Guantanamo Prisoners, Claims Detainees (by Tim Ryan, Courthouse News Service)
Why are Pentagon Leaders Trying to Stop Prisoners from being released from Guantánamo? (by Noel Brinkerhoff and Steve Straehley, AllGov)
Half the Prisoners at Guantánamo Have been Cleared for Release, but Still Can't Leave (by Noel Brinkerhoff, AllGov)