Justice Dept. Pushes Bill to Make Polling Booths Closer to Native American Voters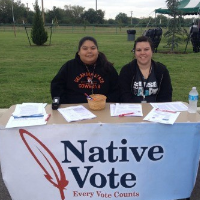 Native voter registration drive (photo: Cherrah Ridge, www.nativevote.org)
Some American Indians and Alaska Natives now must travel hundreds of miles to exercise their right to vote. Now legislation backed by the Justice Department could remedy that.
The Tribal Equal Access to Voting Act was recently proposed to reduce the distances that Native Americans and Alaska Natives must travel to reach a polling place come election time.
In Nevada, for example, residents of the Duck Valley Reservation have to travel more than 200 miles round-trip to the polls in Elko, according to In These Times. In Alaska, some people must cross mountain ranges to reach the nearest voting booth. Many throughout the country don't have the means to travel such distances, so they forgo voting altogether.
The bill would require state and local elections agencies to put at least one election office in each tribal community that requests it. "Our rights should be automatic, like everyone else's," said William "Snuffy" Main, former president and Gros Ventre tribe cultural leader at Fort Belknap Indian Reservation, in Montana. "Counties and states run elections, so they should be required to contact us and say, 'Do you want an office? And where should we put it?'"
Only in 1924 were Native Americans granted full citizenship and the right to vote. And the protections of the Voting Rights Act, passed in 1965, weren't extended to American Indians and Alaska Natives until 10 years later.
"As the saying goes, every journey of a thousand miles begins with a single step," Blackfeet tribal member and political strategist Tom Rodgers told In These Times. "Is [the] draft bill perfect yet? No. But after we have all contributed to improving it, it could be the biggest game-changer in Native enfranchisement since we got the right to vote."
-Noel Brinkerhoff, Steve Straehley
To Learn More:
In Rare Move, the Justice Department Drafts a Bill of Its Own—To Ensure Native Voting Rights (by Stephanie Woodard, In These Times)
The Missing Native Vote (by Stephanie Woodard, In These Times)
Pine Ridge Sioux Must Travel 27 Miles from Reservation to Vote (by Noel Brinkerhoff and Danny Biederman, AllGov)
Justice Dept. Moves to Require Polling Places in Tribal Areas (by Noel Brinkerhoff, AllGov)