Justice Dept. Moves to Require Polling Places in Tribal Areas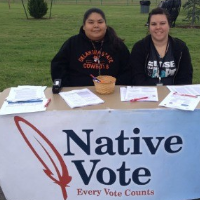 Native voter registration drive (photo Cherrah Ridge, www.nativevote.org)
Voting among American Indians and Alaska Natives in U.S. elections has been down for years, prompting the Obama administration to propose requiring that polling places be set up on tribal lands.
Until now, it was left to the discretion of state and local governments to decide where American Indians and Alaska Natives could cast their ballots, which sometimes resulted in them having to travel far off reservation lands.
Attorney General Eric Holder called the current voting conditions "unacceptable" and "outrageous."
In one area of Montana, according to the Associated Press, the distance to get to a polling place is so far that three tribes have filed a lawsuit to have voting offices set up within closer proximity to voters. In another example, the Alaskan village of Kasigluk is separated by a river that has no bridge, and voters on one side have no more than a couple hours to vote before the ballot equipment is removed and packed onto a boat for shipment to the other side, where voting hours are also be curtailed.
"As a nation, we cannot—and we will not—simply stand by as the voices of Native Americans are shut out of the democratic process," Holder told the media.
He plans to recommend to Congress that it adopt legislation mandating state and local officials, whose jurisdictions include tribal land, to establish a minimum of one polling place at a location approved by Indian or Alaskan Native governments. Holder also plans to work with tribes across the country to help improve voting access.
Associate Attorney General Tony West noted that in addition to the distance problem, language barriers have prevented many American Indians and Alaska Natives from engaging in the electoral process, causing lower turnout among these groups.
He also said that the availability of absentee voting is not enough to resolve the issue.
"For many Native voters, that option is far less accessible because they receive little or no assistance in navigating the bureaucratic process for obtaining and casting an absentee ballot," West told reporters.
-Noel Brinkerhoff
To Learn More:
Justice Department Considers Making Request That Would Add Polling Sites To Tribal Lands (by Sari Horwitz, Washington Post)
Tribal Leaders Welcome Holder's Plan to Increase Voting Access for Indians, Alaska Natives (by Rachel D'Oro, Associated Press)