Justice Dept. Official Identifies Problems in Federal Law Targeting Violence against Native American Women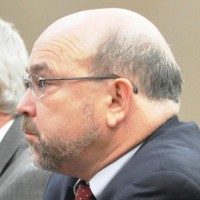 Tracy Toulou (photo: Wyn Hornbuckle, Dept of Justice)
By Mary Hudetz, Associated Press
ALBUQUERQUE, N.M. (AP) — A U.S. Justice Department official identified significant gaps Wednesday in a federal law aimed at addressing high rates of violence against Native American women, saying the law should be expanded to broaden tribes' authority over certain child abuse cases.
In 2013, Congress gave tribes power to prosecute non-Native Americans in domestic and dating violence cases. The push for the law came amid outcry from victims' advocates who cited federal figures showing most assaults involved offenders who weren't Native American.
But the scope of the law — known as the Violence Against Women Act (pdf) — has proven limited, with language saying tribal authorities can only prosecute perpetrators who live or work on tribal land, or are their victim's' spouse or dating partner.
Tracy Toulou, the director of the Justice Department's Office of Tribal Justice, commended the legislation during a Senate Committee on Indian Affairs hearing Wednesday in Washington. But he also said remaining shortfalls leave tribes unable to prosecute child abuse cases involving non-Native offenders — even in instances where the assault or battery on the child goes hand-in-hand with an attack on the mother.
The law also leaves tribes without a way to proceed in their courts when a non-Native suspect attacks an officer during an arrest, he said.
"In these circumstances, the only effective way to hold the perpetrator accountable for all his misconduct, including his crimes against the children, is to prosecute him federally, rather than tribally," he said.
A third "gap" listed in Toulou's testimony centered on whether tribes can charge a suspect accused of threatening or attempting to harm a woman but not actually injuring her.
He cited a case in which a woman's boyfriend attempted to punch her while intoxicated but missed and fell. Since tribal authorities weren't sure whether that confrontation qualified as domestic violence under the law, they didn't bring charges. Later, the man returned to assault the victim again.
Toulou's testimony comes as the Indian Affairs Committee weighs legislation that would follow his recommendation to add protections for Native American children.
The proposal also aims to grant tribes authority to prosecute non-Native American drug traffickers — a move Toulou said he believed should wait, but a tribal representative said was needed.
"Every year brings new challenges that our families are facing, including meth and other drug-related violence," said Dana Buckles, a councilman for the Assiniboine and Sioux Tribes in Montana. "We have all heard the stories in the news of people essentially having psychotic breakdowns and committing horrendous acts of violence when they are under the influence of these drugs. We are now experiencing this on our reservation."
To Learn More:
Sen. Murkowski Tries to Undo Law She Promoted Preventing Alaska Native Courts from Prosecuting Domestic Violence Cases (by Noel Brinkerhoff and Steve Straehley, AllGov)
First Trial of a Non-Native American in a Tribal Court (by Steve Straehley, AllGov)
Native American Tribes Begin, for First Time, to Prosecute Non-Indian Wife Abusers (by Steve Straehley, AllGov)