Sen. Murkowski Tries to Undo Law She Promoted Preventing Alaska Native Courts from Prosecuting Domestic Violence Cases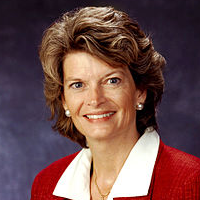 Sen. Lisa Murkowski
Alaska's Republican U.S. senator, Lisa Murkowski, has come under heated criticism from Alaskan native groups and the Obama administration for exempting her state from a law that allowed tribal courts to prosecute non-Native Americans for domestic violence.
Murkowski was responsible for adding language last year to the reauthorization of the Violence Against Women Act. The reauthorization allowed tribal courts to prosecute non-Native Americans for domestic violence against Native partners in certain cases. Murkowski's amendment exempted Alaska Native communities from that rule. She insisted the "Alaska exception" didn't change the bill, claiming the rest of the language made clear that it pertained only to "Indian country"—a designation used for reservations on which Native Americans live in the lower 48 states. There's only one such reservation in Alaska.
Murkowski also noted that the state's other U.S. senator, Democrat Mark Begich, cosponsored the amendment, and that state officials backed the exception. Begich, however, has since withdrawn his support for the change.
Meanwhile, Alaska Native representatives and others have been furious with Murkowski.
In a November report, the bipartisan Indian Law and Order Commission called the change "unconscionable," while adding: "Given that domestic violence and sexual assault may be a more severe public safety problem in Alaska Native communities than in any other tribal communities in the United States, this provision adds insult to injury."
U.S. Associate Attorney General Tony West has been fighting for repeal of the Alaska exception. "It's important to send a very clear signal that tribal authority means something, that tribal authority is an important component to helping to protect Native women and Native children from violence," he said. "Those civil protective orders can help to save lives."
Murkowski now says the amendment was a bad idea and is working to have it repealed.
-Noel Brinkerhoff, Steve Straehley
To Learn More:
Senator Tries to Repeal Divisive Provision She Inserted in Violence against Women Act (by Sari Horwitz, Washington Post)
Alaska Native Women React to Alaska Sen. Lisa Murkowski's Racist Vote on VAWA (by Edward Teller, FireDogLake)
Native American Tribes Begin, for First Time, to Prosecute Non-Indian Wife Abusers (by Steve Straehley, AllGov)
Justice System for Native Alaskans Singled Out as Worst in U.S. (by Matt Bewig, AllGov)