Justice Dept. Agrees to Release Secret Memo Relating to Patriot Act and Census Info
Saturday, January 31, 2015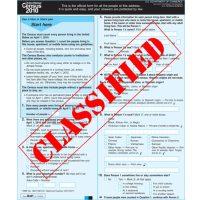 (graphic: Steve Straehley, AllGov)
The American public will soon find out why intelligence agencies and law enforcement have accessed census data under the guise of protecting the nation from terrorism.
The details will become known once the U.S. Department of Justice releases a secret memo that covers legal interpretations of controversial Section 215 of the Patriot Act, "including legal analysis of law enforcement and intelligence agency access to census records," according to the Electronic Frontier Foundation (EFF).
EFF fought a four-year legal battle to get the memo, produced by the Office of Legal Counsel, released under the Freedom of Information Act. The Justice Department dropped an appeal after losing an earlier court decision on the matter. EFF reported it had not received the memo as of January 29.
"The public trusts that information disclosed for the census won't wind up in the hands of law enforcement or intelligence agencies," EFF staff attorney Mark Rumold said in a press release. "The public has a right to know what the Office of Legal Counsel's conclusions were on this topic, and we're happy to have vindicated that important right."
He added: "We're well overdue to have a fully informed, public debate about this provision of law, and hopefully the disclosure of this opinion will help move the public debate forward."
-Noel Brinkerhoff
To Learn More:
EFF Wins Battle Over Secret Legal Opinions on Government Spying (Electronic Frontier Foundation)
DOJ Scraps Fight Over Grab of Census Records (by William Dotinga, Courthouse News Service)
Section 215 of the Patriot Act Expires in June. Is Congress Ready? (by Nadia Kayyali, Electronic Frontier Foundation)
Privacy Board Report on Mass Telephone Surveillance Divides on Party Lines (by Noel Brinkerhoff, AllGov)
NSA Phone Data Collection Made No Difference to National Security (by Noel Brinkerhoff and Danny Biederman, AllGov)
Opposition Grows to Obama's Refusal to Reveal Secret Patriot Act Powers (by Noel Brinkerhoff, AllGov)