Citizens' Growing Protests against Border Patrol Checkpoints Inside the U.S.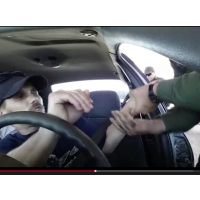 Border Patrol agent removes driver from his car (photo: YouTube)
Some Americans are refusing to answer questions at Border Patrol checkpoints set up many miles away from U.S. borders, believing the questions posed by Border Patrol agents are unacceptable for law abiding citizens.
Many of these protestors are also using their dashboard cameras to record their encounters with agents, some of whom have resorted to breaking windows, dragging motorists from their vehicles and detaining them, according to The Houston Chronicle.
The newspaper reports "these travelers are among the latest to join what appears to be an informal alliance of people, possibly into the hundreds, recording their encounters at Border Patrol checkpoints," and that "some of the travelers appear to be making a stand for what they say are their rights and contend that the government, which has long drawn support for doing whatever is needed to protect the nation's borders, is going too far."
These checkpoints are not at international points of entry to the U.S. nor necessarily within close proximity to the U.S. border, but farther inland, within a 100-mile distance of U.S. borders and coasts. It has been estimated that between 34 and 170 such checkpoints exist inland from the U.S.-Mexico border.
Dash-cam footage showed agents smashing the car window of Navy veteran Thomas Sauer, 26, then forcibly yanking him from his car after he chose to "opt out" of discussing his citizenship. The agents read him his rights, including that he had the "right to remain silent," which Sauer found ironic.
"I did it because I don't agree with the premise of questioning citizens without suspicion," Sauer told the Chronicle. "Those type of interactions should be left at the border."
Sauer spent several hours being detained by agents before being released. He was not charged with a crime but was fingerprinted. The incident apparently led to his being fired from his job, reported the Chronicle's Dane Schiller.
The video footage of these incidents is typically posted online and gets millions of views.
Border Patrol's parent agency, Customs and Border Protection (CBP), said in a prepared statement that "Border Patrol agents may lawfully question the (vehicle) occupants about their citizenship and place of birth, and may request documented proof of immigration status and how an individual status was obtained." But it added that agents at these checkpoints don't automatically have the authority to conduct searches of motorists or their vehicles.
"Often, local citizens are subjected to extended interrogation and detainment" ACLU attorney Mitra Ebadolahi told UT San Diego. "These are mini police-state zones."
-Danny Biederman, Noel Brinkerhoff
To Learn More:
Citizens Defy Border Patrol by Staying Silent with Video Cameras (by Dane Schiller, Houston Chronicle)
Checkpoints Push Buttons, Boundaries (by Peter Rowe, UT San Diego)
Legal Residents Claim They are Punished for Living Near Mexican Border (by Noel Brinkerhoff, AllGov)