67 Border Patrol Shooting Internal Investigations; No Criminal Charges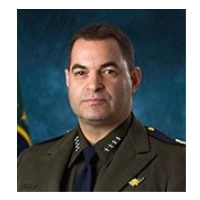 Border Patrol Chief Michael Fisher
Prompted by an independent review that raised questions about agency shootings, the U.S. Customs and Border Protection (CBP) conducted an internal investigation of 67 incidents of Border Patrol agents firing their weapons—and decided not to file any charges.
In 64 of the 67 cases, CBP officials absolved Border Patrol officers of any criminal misconduct, according to the Los Angeles Times. Three cases, all from 2012, are still pending, although the agents involved are still patrolling.
Nineteen people died from the shootings reviewed, several of which involved people who Border Patrol agents said were throwing rocks at them. Two agents were disciplined, receiving oral reprimands.
"We are deeply disappointed" with the lack of action, Juanita Molina, executive director of Border Action Network, a human rights organization based in Tucson, told the Times. "When you have someone throwing rocks and someone responding with lethal force, it is just not proportional."
The review was launched last summer after the Police Executive Research Forum, a nonprofit research and policy organization in Washington, conducted its own study of the 67 shootings. It "found a pattern of agents firing in frustration at people throwing rocks from across the border, as well as agents deliberately stepping in front of cars apparently to justify shooting at the drivers," the Times' Brian Bennett wrote.
It was only last month that the Customs and Border Protection began allowing those with complaints against the Border Patrol to file them in Spanish.
-Noel Brinkerhoff
To Learn More:
Border Patrol Absolves Itself In Dozens of Cases of Lethal Force (by Brian Bennett, Los Angeles Times)
U.S. Courts Struggle with Case of Border Patrol Agent who Shot to Death a Teenager on the other Side of the Border (by Noel Brinkerhoff and Danny Biederman, AllGov)
Border Patrol Sued for Killing a Picnicker in Mexico (by Noel Brinkerhoff, AllGov)
Border Patrol Used Dubious Tactics to Create Pretext to Justify Shootings; CBP Tried to Bury Scathing Report (by Noel Brinkerhoff, AllGov)