Homeless Sue Cities for Making Homelessness a Crime
Thursday, November 26, 2015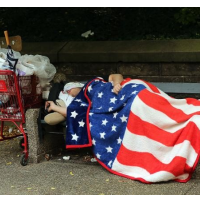 (photo: Getty Images)
A California city is being sued by four homeless men who claim homelessness has been criminalized there.
Robert Schunknect, Mario Acosta, Justin Lightsey and James Escobar are suing the city of Manteca for adopting ordinances making it illegal to sleep or set up encampments outside. It also banned urination and defecation in public. The four say they have been cited by police for illegal campsites and argue the laws violate their constitutional rights by making homelessness a crime.
"If we are not doing a crime, leave us alone," Acosta told ThinkProgress, adding, "I shouldn't be arrested and dragged off to county" just for being homeless.
A similar legal battle is taking place in Sarasota, Florida, which banned sleeping outside, even though the city has no publicly funded homeless shelters. With the help of the American Civil Liberties Union, six plaintiffs are suing Sarasota to have the ordinance overturned.
Suits such as these may have backers in high places. The U.S. Justice Department submitted a memo in a similar suit brought in Boise, Idaho, saying such laws are unconstitutional. And the Department of Housing and Urban Development announced this fall that it might withhold funding from cities that criminalize homelessness.
-Noel Brinkerhoff, Steve Straehley
To Learn More:
This City Criminalized Homelessness, So the Homeless Are Fighting Back (by Bryce Covert, ThinkProgress)
Homeless Band Together To Sue Their City Over Law against Sleeping In Public (by Bryce Covert, ThinkProgress)
Homeless Men File Lawsuit against Manteca (by Melinda Meza, KCRA Sacramento)
HUD Threatens to Withhold Aid Money to Cities that Criminalize Homelessness (by Noel Brinkerhoff and Danny Biederman, AllGov)
58 California Cities Have Anti-Homeless Laws (by Ken Broder, AllGov)
Manteca Joins Lengthening List of Cities Trying to Banish the Homeless (by Ken Broder, AllGov California)