58 California Cities Have Anti-Homeless Laws
Monday, February 23, 2015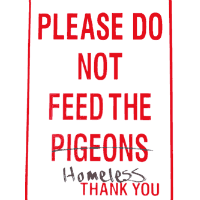 More than 20% of the nation's homeless live in California and two-thirds of them live on the street. State government has pretty much delegated dealing with the homeless to municipalities, which tend to have even fewer resources.
The result is an explosion of local laws that are meant to harass and punish homeless people, rather than restrict anti-social behavior, according to a new study out of the University of California, Berkeley School of Law. Local governments are trying to drive them out of their areas and into someone else's backyard. The result is a rush to the bottom to see who can come up with, and enforce, the most onerous laws.
Researchers gathered information from 58 California cities and found more than 500 anti-homeless laws between them. All of them have daytime laws that criminalize the four basic kinds of activities that can be applied to the homeless: "(1) standing, sitting, and resting in public places; (2) sleeping, camping, and lodging in public places, including in vehicles; (3) begging and panhandling; and (4) food sharing."
That last one is problematic for anyone arguing that the laws are aimed at preventing unsocial behavior like urinating in public. Arnold Abbott, 90, made national news in Fort Lauderdale, Florida, last November when he was repeatedly cited under a new municipal law for feeding the homeless. He has been doing that since 1979 and started a foundation in 1991 to support his charitable work.
Ninety percent ban begging and panhandling and 20% ban food sharing. All but one of the 58 cities ban at least one nighttime activity, "like sleeping, camping, or lodging in public places, including in vehicles."
The report identified 23 anti-homeless laws in San Francisco and Los Angeles each. Sacramento has 11 laws, but the report notes they augment their enforcement of the laws with "selective enforcement of facially neutral laws, confiscation of property, and day-to-day harassment."
Fifty-nine percent of the laws have been created since 1990, reversing a trend begun in 1972 when the U.S. Supreme Court struck down a Jacksonville, Florida, vagrancy law as unconstitutionally vague. Vagrancy laws were used with increasing frequency after the Great Depression to get rid of undesirables, but even then some states went too far.
California was smacked down in 1941 by a unanimous high court that didn't think much of the state's law against bringing indigent people into the state. California was trying to blockade its borders against heavy migration from the Great Plains Dust Bowl catastrophe in the 1930s.
The justices ruled in Edwards v. California that the Texas brother-in-law of a resident could not be kept from moving to the state just because his last job had been working for the Works Progress Administration (WPA), a New Deal anti-poverty program, and was therefore considered "an indigent person."
The report concedes that comprehensive statistics on the enactment and enforcement of laws that are either targeted at the homeless or conveniently applied to them are hard to come by. In the case of enforcement, the report analyzed FBI data gathered from localities on arrests for "vagrancy" and statistics from the California Attorney General's office on arrests for disorderly conduct.
It combined those analyses with interviews with police officer, public defenders and others to identify trends in the state. Researchers found that as homelessness skyrocketed in the 1980s, so did vagrancy arrests, up 77% between 2000 and 2012. This wasn't just part of a crackdown on crime. Arrests for drunkenness and disorderly conduct declined 16% and 48%, respectively, for those offenses.
"In other words," research supervisor Jeffrey Selbin said, "vagrancy laws increasingly are being used to punish people's status—being homeless—rather than their behavior."
-Ken Broder
To Learn More:
California Is Rife with Laws Used to Harass Homeless People (by Paul Boden and Jeffrey Selbin, Los Angeles Times op-ed)
U.C. Berkeley Law School Clinic to Release Major New Report on the Growing Criminalization of Homeless People in California (Joker Presents)
Manteca Joins Lengthening List of Cities Trying to Banish the Homeless (by Ken Broder, AllGov California)
Share No More: The Criminalization of Efforts to Feed People in Need (National Coalition for the Homeless) (pdf)
No Safe Place: The Criminalization of Homelessness in U.S. Cities (National Law Center on Homelessness & Poverty) (pdf)
California's New Vagrancy Laws: The Growing Enactment and Enforcement of Anti-Homeless Laws in the Golden State (by Marina Fisher, Nathaniel Miller, Lindsay Walter and Jeffrey Selbin, University of California, Berkeley)